Jester King Is Pleased To Introduce Saison Americaine
(Austin, TX) – We're pleased to introduce Jester King Saison Americaine — our take on the modern-American, mixed culture saison.
Saison has been an elusive concept in modern brewing. It's rare to encounter two brewers with precisely the same definition. In fact, the very lack of a clear definition has become somewhat synonymous with the style. For us at Jester King, saison means beer that is uniquely tied to a time, place, and people. We believe it should be inextricably tied to the water, agriculture, and microflora of a place, the seasonal and environmental fluctuations of time, and the desires, palates, and eccentricities of people. Add these variables together, and you get beer that's entirely unique, incapable of reproduction, and simply would not exist but for this confluence.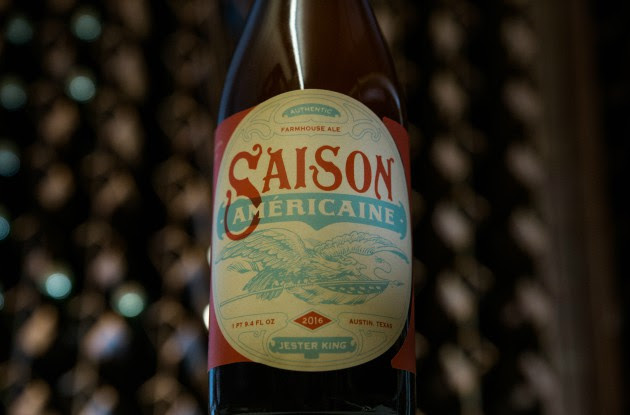 Putting aside our general philosophy on saison, there's another part of the definition that is open to interpretation as well — that is, the amount of sourness or acidity in saison. With plenty of notable exceptions, we think it's fair to say that the classic, European examples of the style, tend to have less acidity than their New World, American counterparts. We'd argue that America's love of sour beer has led to more examples of saison that display noticeable levels of acidity. Once again with plenty of exceptions, we believe wood-aged, mixed culture, sour saison has come to be an American hallmark of the style.
Overall, we'd say that we've leaned toward the classic, European approach at Jester King when it comes to saison. We've been heavily inspired by beers like De Ranke XX Bitter, De la Senne Zinnebir, Thiriez Extra, and Dupont Avril to make beers like Le Petit Prince, Noble King, Mad Meg, and more recently Colonel Toby and Final Entropy. However, in this case with Saison Americaine, we've intentionally employed variables such as lower hopping rates, foudre fermentation, and cooler temperatures to create a beer with more pronounced acidity. It's name — Saison Americaine — refers to a modern-American interpretation of saison.
The creation of more acid driven American saison is something that's a fairly recent phenomenon in our opinion, having become more common in the last five to ten years it seems. While fully embracing the more bitter, less acidic approach to saison-making, we view this as a good thing! As our artist Josh Cockrell writes, "Tradition without accompanying growth is doomed to decay. It is the metamorphosis of innovation into tradition that fortifies and preserves the foundation of human knowledge that we build upon. Without the continual process of adding new to old, the human legacy would be slowly lost to time."
Saison Americaine was brewed on October 11th, 2016 with Hill Country well water, Texas pale malt from Blacklands Malt, German Vienna malt, raw wheat, and hops. It was fermented in an oak foudre for about two months with our mixed culture of brewers yeast and native yeast and bacteria. It was packaged on December 12th, 2016 and 100% naturally conditioned. Saison Americaine is unfiltered, unpasteurized, 5.2% alcohol by volume, 14 IBU, 3.2 pH, and has finishing gravity of 1.002 (0.5 degrees Plato). It will be released at Jester King at 4pm on Friday, June 23rd. Saison Americaine will be available by the glass and at bottles to go. We have about 3,300 bottles available (750ml/$14). There's no bottle limit. We're uncertain at the present time whether it will be distributed beyond our tasting room.
Cheers,
Jeffrey Stuffings
Founder
Jester King Brewery