Iron Hill Introduces Citra IPA
(Delaware Valley, USA) –  On Thursday, November 2  Iron Hill Brewery & Restaurant will release Citra IPA in cans, making one of their most popular seasonal beers available in conveniently portable packaging for the first time. The beer is a single-hopped IPA, loaded with copious amounts of Citra, and serves as a hop head's oasis, thanks to the flavors of peach, lychee and tropical fruit. Recently, Iron Hill committed to making more of their beers available to fans in cans, and this seasonal release is their latest in a growing series of top-notch canned craft beers.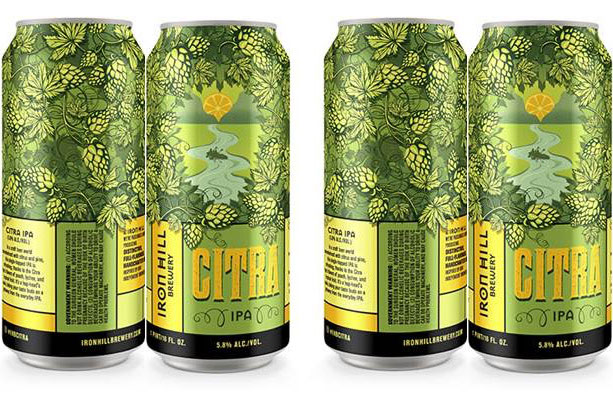 Citra IPA is a medium-bodied American IPA, relying solely on the flavorful Citra hop, which imparts a distinct tropical citrus aroma while weighing in at a session-able 5.8% ABV
The refreshing hop-forward ale is a getaway from the everyday IPA and will be available in limited quantities, while supplies last, in four-packs of 16-oz. cans
Citra IPA will also be available on draft at all 12 Iron Hill locations.

The can also features a fun new design from Pittsburgh, PA's Smith Brothers Agency, the ninth beer in a series of collaborations between the brewery and the firm, including Rising Sun IPA, Crusher, Mahalo, Apollo!, Vienna Red Lager, Ore House IPA, Pig Iron Porter, Pumpkin Ale and Oktoberfest.
About Iron Hill… Founded by home brewers Kevin Finn and Mark Edelson and restaurateur Kevin Davies in Newark, DE in 1996, Iron Hill Brewery & Restaurant has blossomed from one restaurant and brewery to 12 locations across the mid-Atlantic region, including Pennsylvania, Delaware and New Jersey. Each brewpub has their own craft kitchen and scratch brewery, allowing individual chefs and brewers the creativity to pair the freshest ingredients with the highest quality grains and hops. For 21 years, Iron Hill has held beer at the heart of everything they do, and their passion has been roundly rewarded: their beers have won 47 medals from the Great American Beer Festival and another 30 medals at the World Beer Cup.
Locations include…Newark, DE (147 East Main Street, 302-266-9000);  Wilmington, DE (620 Justison Street, 302-472-2739);  Media, PA(30 East State Street, 610-627-9000);  West Chester, PA (3 West Gay Street, 610-738-9600);  North Wales, PA (1460 Bethlehem Pike, 267-708-2000);  Phoenixville, PA (130 East Bridge Street, 610-983-9333);  Lancaster, PA (781 Harrisburg Pike, 717-291-9800);  Maple Shade, NJ (124 East Kings Highway, 856-273-0300); Voorhees, NJ (13107 Town Center Boulevard, 856-545-9009);  Chestnut Hill, PA (8400 Germantown Avenue, 215-948-5600);  Ardmore, PA (60 Greenfield Avenue, 610-228-2280);  and Huntingdon Valley, PA (785 Huntingdon Pike, 610-602-9255).