Iron Hill Has A "Sweet Sixteen" At GABF… Wins Four More Medals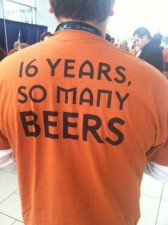 Iron Hill Celebrates Its Sweet Sixteen With Four More Medals At The 2012 Great American Beer Festival
Wilmington, DE – Iron Hill Brewery & Restaurant, with nine locations in the mid-Atlantic region, is proud to announce that Media, PA Head Brewer Bob Barrar,Wilmington, DE Head Brewer Brian Finn, Phoenixville, PA Head Brewer Tim Stumpf and Lancaster, PA Head Brewer Kevin Walter brought home medals from this year's prestigious Great American Beer Festival (GABF), held this past weekend in Denver, CO.  Marking their 16th consecutive year as GABF medal winners, the four latest bring Iron Hill's company-wide total to 39 medals.
"We are tremendously proud of all our talented brewers, particularly this year's GABF winners Bob, Brian, Tim and Kevin, and we couldn't be more thrilled to celebrate 16 years of consecutive wins as a team," says Director of Brewing Operations Mark Edelson.
This year, the Iron Hill crew made an impressive showing with 79 people traveling to Denver to wear t-shirts stating "16 Years, So Many Beers" and ring cowbells to cheer on their brewers.  This GABF win is particularly meaningful for Barrar, who extended his winning streak to 11 years and is Iron Hill's – and the Philadelphia region's – most decorated brewer, with an astonishing 24 medals from the GABF and the World Beer Cup (WBC).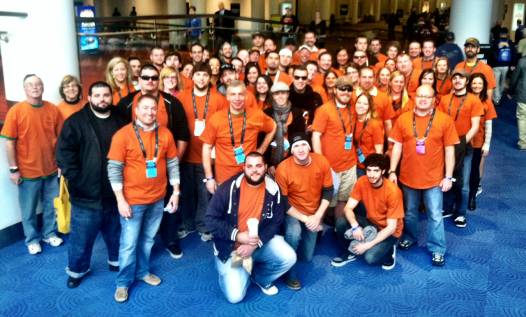 Iron Hill's award-winning beers are:
Russian Imperial Stout, a bronze medal winner for "Imperial Stout," from Barrar at Media, PA.
Iron Hill's most decorated beer:  GABF silver medal 2011;  GABF gold medal 2010;  GABF gold medal 2006;  GABF gold medal 2003;  WBC gold medal 2012;  WBC gold medal 2010;  WBC bronze medal 2006
A full-bodied beer that starts with a complex malty sweet and high roasted character, wonderfully balanced with the generous use of citrusy American hops. 
Black IPA, a bronze medal winner for "American-Style Black Ale," from Finn at Wilmington, DE.
An American-style IPA with full malt flavor, pronounced bitterness and substantial hop flavor and aroma complemented by a touch of roast character.
Roggenbier, a bronze medal winner for "Rye Beer," from Stumpf at Phoenixville, PA.
Another multi-medal winner: GABF gold medal 2008
A traditional German-style dark rye beer with a huge, fruity nose from Bavarian ale yeast with hints of unsweetened chocolate and caramel and a touch of spiciness from the rye.
Rauchtoberfest, a silver medal winner for "Smoked Beer," from Walter at Lancaster, PA.
A traditional German-style festival beer brewed with 50% malt smoked over beechwood chips for a subtle smoke flavor and aroma that compliments the malt character.
The GABF is an annual event celebrating the best in American brewing culture.  This year's competition attracted over 49,000 attendees to celebrate more than 2,700 beers (36,500 gallons!) from 578 breweries vying for the 252 medals.  Award-winning brewers received prestigious gold, silver and bronze medals in 84 beer categories, establishing the best examples of each style in the U.S.  For more information, including a complete list of winners, please visit www.gabf.org.
Founded by home brewers Mark Edelson and Kevin Finn and restaurateur Kevin Davies in Newark, DE in 1996, Iron Hill Brewery & Restaurant has blossomed from one restaurant and brewery to nine locations across the mid-Atlantic.  Each is dedicated to producing and serving top-quality hand-crafted beers and cuisine in a warm and hospitable setting, and all are open seven days a week for lunch and dinner.  Their acclaimed beers have accumulated a wealth of awards from the nation's top beer festivals, and their restaurants have earned more than 100 "Best of" nods from local and national publications.
Locations include:  Newark, DE (147 East Main Street, 302-266-9000);  Wilmington, DE (710 South Madison Street, 302-472-2739);  Media, PA (30 East State Street, 610-627-9000);  West Chester, PA (3 West Gay Street, 610-738-9600);  North Wales, PA (1460 Bethlehem Pike, 267-708-2000);  Phoenixville, PA (130 East Bridge Street, 610-983-9333); Lancaster, PA (781 Harrisburg Pike, 717-291-9800);  Maple Shade, NJ (124 East Kings Highway, 856-273-0300);  and Chestnut Hill, PA (8400 Germantown Avenue, 215-948-5600).  A tenth location, in Voorhees, NJ is scheduled to open in 2013.
For more information about Iron Hill Brewery & Restaurant, or to make a reservation at any of their locations, please visit www.ironhillbrewery.com, follow them on Twitter (@ironhillbrewery) and like them on Facebook.