Iron Hill Brewery & Restaurant To Release Oktoberfest Cans
(Delaware Valley, USA) –  Beginning on Friday, September 30, Iron Hill Brewery & Restaurant will pay homage to the fall harvest season by offering a traditional menu of German-inspired favorites, along with the highly-anticipated release of their Oktoberfest beer. For the first time, this popular German-style festival beer will be available in 16-oz cans, only while supplies last – as well as on draft through Sunday, October 30 at all 12 Iron Hill locations. Oktoberfest's release marks the end of summer and the transition into the comforting beers of the fall and winter months.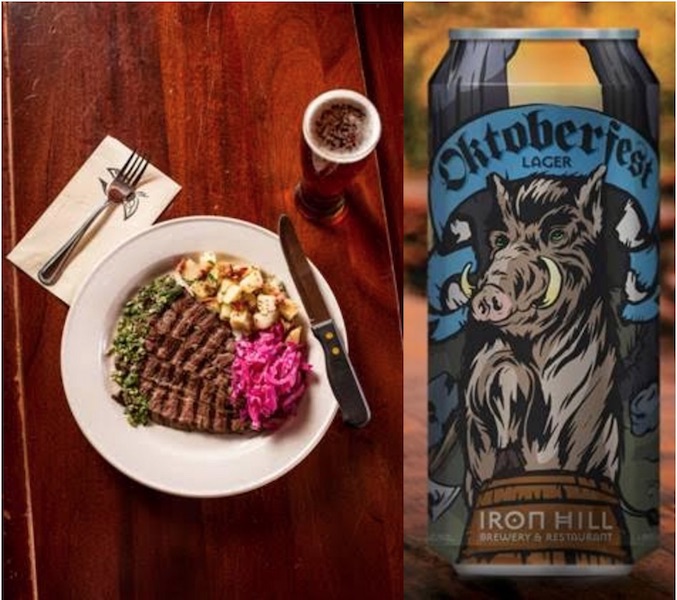 Iron Hill's Oktoberfest recipe is a traditional German-style festival beer, a medium-bodied lager with wonderful malty and bready aroma, and a firm malt flavor balanced with mild bitterness and a clean, dry finish
Oktoberfest beer will be available in draft pints, growlers and 4-packs
Single cans and draft pints will be available for dine-in only
Growlers and 4-packs of 16-oz cans will be available for takeout only
Iron Hill's celebratory lineup of classic German dishes pairs perfectly with their Oktoberfest beer. Available at all 12 Iron Hill locations, menu items will include these and more:

Oktoberfest Egg Rolls, with bratwurst, sauerkraut, cheddar, green onion, beer mustard sauce
Grilled Alsatian Flatbread, with applewood smoked bacon, caramelized onions, gruyere, horseradish sauce
Schlachtplatte, grilled butcher's plate, with cheddar bratwurst, garlic sausage, marinated pork loin, smashed Yukon gold potatoes, bacon-lager kraut and beer mustard sauce
Char-Grilled Flank Steak, with German potato salad, red cabbage and green herb sauce
Jaegerschnitzel, pan-fried pork cutlets, spaetzel, beer-braised red cabbage and hunter sauce
Apfel-Rosinen Brotpudding, warm apple-raisin bread pudding, rum sauce and vanilla ice cream
About Iron Hill…Founded by home brewers Kevin Finn and Mark Edelson and restaurateur Kevin Davies in Newark, DE in 1996, Iron Hill Brewery & Restaurant has blossomed from one restaurant and brewery to 12 locations across the mid-Atlantic. Each restaurant is dedicated to producing and serving top-quality hand-crafted beers and cuisine in a warm and hospitable setting, and all are open seven days a week for lunch and dinner. In 2014, Zagat honored Iron Hill by naming them the most popular restaurant in Philadelphia, and their beers have earned 44 medals from the Great American Beer Festival in an unbroken 19-year winning streak that continues today. They debuted their 12th location, in Huntingdon Valley, PA, in July 2016.
Locations include…Newark, DE (147 East Main Street, 302-266-9000);  Wilmington, DE (620 Justison Street, 302-472-2739);  Media, PA (30 East State Street, 610-627-9000);  West Chester, PA (3 West Gay Street, 610-738-9600);  North Wales, PA (1460 Bethlehem Pike, 267-708-2000);  Phoenixville, PA (130 East Bridge Street, 610-983-9333);  Lancaster, PA (781 Harrisburg Pike, 717-291-9800);  Maple Shade, NJ (124 East Kings Highway, 856-273-0300);Voorhees, NJ (13107 Town Center Boulevard, 856-545-9009);  Chestnut Hill, PA (8400 Germantown Avenue, 215-948-5600);  Ardmore, PA (60 Greenfield Avenue, 610-228-2280);  andHuntingdon Valley, PA (785 Huntingdon Pike, 610-602-9255).