Iron Hill Brewery & Restaurant Adds Philly Location
(Philadelphia, PA) – Iron Hill Brewery & Restaurant today announced that it has leased 8,450 square feet, becoming the newest tenant to join the transformative East Market project located in Center City Philadelphia owned by National Real Estate Development.  Founded in 1996 by Kevin Finn, Mark Edelson and Kevin Davies, Iron Hill is the Mid-Atlantic region's most awarded and fastest growing collection of brewpubs. Scheduled to open in spring 2018, Iron Hill Center City (1150 Market Street) will mark the company's highly-anticipated debut in a major metropolitan hub, setting the stage for further brand expansion along the East Coast.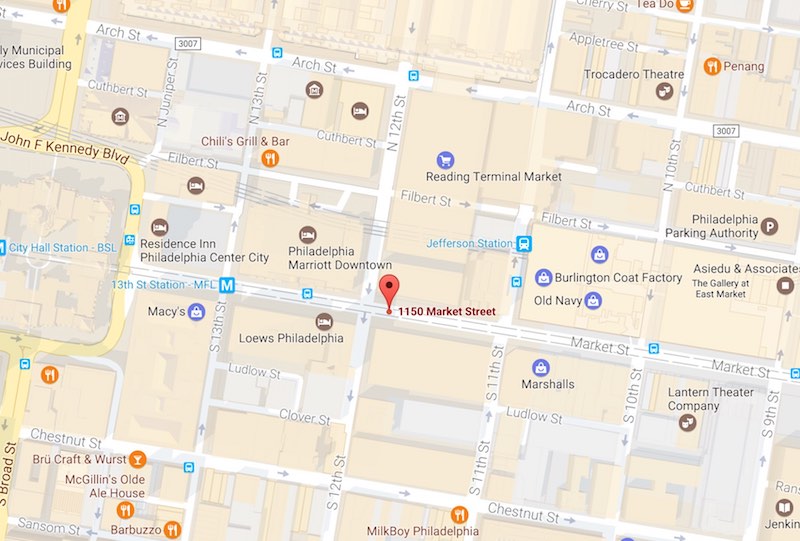 The addition of Iron Hill to East Market will bring one of the most enduringly successful craft brewers in the United States just steps from the Pennsylvania Convention Center and Reading Terminal Market.  It will also serve as one of only a handful of full-scale breweries within the city limits of Philadelphia.
"We've long wanted to join Center City's exciting and diverse restaurant scene, but we wanted to be part of something from the ground up," said Iron Hill Brewery & Restaurant President and Founder Kevin Finn. "There has been tremendous population growth as places like East Market draw new residents to Center City. We take great pride in embracing the communities we serve, and that is especially true in Philadelphia. We look forward to opening our doors and raising a pint with our new neighbors and friends in spring 2018."
To create the comfortable dining areas, open kitchen and exposed microbrewery that have become the hallmarks of Iron Hill, it has enlisted Street Sense, a design firm with offices in Bethesda, MD and Washington, DC. Street Sense has created a vibrant, sleek design allowing for all-access views of the brewery, which is highly visible behind the bar and enclosed in glass.
Iron Hill Brewery & Restaurant currently operates 12 locations throughout Delaware, New Jersey and Pennsylvania.  In 2016 Iron Hill received an investment from A&M Capital, which positioned the company to continue its 20-year expansion from one brewpub to now its 13th location at East Market.
East Market, the pedestrian-oriented, mixed-use development that is comprised of an entire city block (Market to Chestnut Streets; 11th to 12th Streets), combines shopping and dining experiences with contemporary work and living spaces. The Ludlow, East Market's first residential tower, will feature 322 rental units with innovative floor plans complemented by a host of modern amenities.   1100 Ludlow, East Market's collaborative, contemporary office space, will serve as home to MOM's Organic Market, The Design Center and Bohlin Cywinski Jackson
"With the arrival of Iron Hill, East Market continues to create a dynamic urban environment," said Daniel Killinger, Managing Director of Development – National Development. "Iron Hill will be a great addition to this burgeoning neighborhood, helping to activate the street life of the East Market development.  We are excited and proud that East Market has been chosen as the home of Iron Hill's first urban brewpub."
About East Market
East Market, a pedestrian oriented development in the heart of Philadelphia, will revitalize an entire city block, from Market to Chestnut, 11th to 12thStreets. This mixed-used project will blend urban and artisanal shopping and dining experiences with contemporary work and living spaces. The project is owned by National Real Estate Advisors, LLC, an SEC-registered asset management advisor investing in major U.S. urban markets and subsidiary of the National Electrical Benefit Fund; Joss Realty Partners, a New York-based private real estate investment firm; Young Capital LLC, a Philadelphia-based real estate investment firm affiliated with Classic Management, Inc.; and SSH Real Estate, one of the largest privately held commercial real estate companies in the Greater Philadelphia Region. East Market is being developed by National Real Estate Development, LLC. For more information, please visit www.eastmarketphilly.com or email at [email protected].
About Iron Hill…Founded by home brewers Kevin Finn and Mark Edelson and restaurateur Kevin Davies in Newark, DE 20 years ago, Iron Hill Brewery & Restaurant has blossomed from one restaurant and brewery to 13 locations across the mid-Atlantic.  Each restaurant is dedicated to producing and serving top-quality hand-crafted beers and cuisine in a warm and hospitable setting, and all are open seven days a week for lunch and dinner.  In 2014, Zagat honored Iron Hill by naming them the most popular restaurant in Philadelphia, and their beers have earned 45 medals from the Great American Beer Festival in an unbroken 20-year winning streak that continues today. They debuted their 12th location, in Huntingdon Valley, PA, in August 2016, and Iron Hill Center City will open spring 2018.
Locations include…Newark, DE (147 East Main Street, 302-266-9000);  Wilmington, DE (620 Justison Street, 302-472-2739); Media, PA (30 East State Street, 610-627-9000);  West Chester, PA (3 West Gay Street, 610-738-9600);  North Wales, PA (1460 Bethlehem Pike, 267-708-2000);  Phoenixville, PA (130 East Bridge Street, 610-983-9333);  Lancaster, PA (781 Harrisburg Pike, 717-291-9800);  Maple Shade, NJ (124 East Kings Highway, 856-273-0300); Voorhees, NJ (13107 Town Center Boulevard, 856-545-9009);  Chestnut Hill, PA (8400 Germantown Avenue, 215-948-5600);  Ardmore, PA (60 Greenfield Avenue, 610-228-2280);  and Huntingdon Valley, PA (785 Huntingdon Pike, 610-602-9255).