Hoppin Frog Barrel Aged Frog's Hollow Double Pumpkin Ale Release 9/21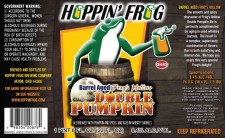 Next Friday 9/21 we are releasing a super-tasty, Bourbon-barrel aged version of our Frog's Hollow Double Pumpkin Ale!!  And we are proud to announce that we also will have the acclaimed gourmet food truck JiBaro joining us!  They will be setup and offering their fun & often spicy lunch creations from Noon until 1:30 PM. (http://www.worldwidejibaro.co/)  So, stop-in and get lunch if you can!
Frog's Hollow Double Pumpkin Ale is one of the best examples of an American pumpkin ale, winning the Gold Medal at the 2010 GABF.  And, it is really a great beer for barrel aging, creating the perfect blend of Bourbon barrel character, and creamy pumpkin ale flavors.
Hoppin' Frog Brewery will be open 10:00 AM until 5:00 PM on Friday 9/21 for this special beer release.  You can get this Barrel Aged version of our Pumpkin Ale, along with about 20 other styles right now at the brewery.  Price for the Barrel Aged Pumpkin Ale is $13.99 per 22-ounce bottle, and there is a 10% discount for mixed cases of 12.  We hope to see you next Friday!!