DuClaw Brewing Co. Chooses The Alysha Miller Harris Baby Fund as H.E.R.O. '12 Charity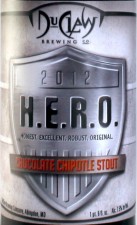 DuClaw Brewing Co. Chooses The Alysha Miller Harris Baby Fund Local Maryland Craft Brewery Announces this Year's H.E.R.O Charity Recipient
Baltimore, MD (September 13, 2012) — DuClaw Brewing Company will be tapping this year's winning H.E.R.O. entry, Chocolate Chipolte Stout, on Wednesday, October 24, 2012, and similar to last year every penny from the sale will be donated to charity.  The Maryland craft brewery is honored to name The Alysha Miller Harris Baby Fund as the charity of choice for H.E.R.O. '12.
Benefiting the wife and unborn child of Ben Harris, The Alysha Miller Harris Baby Fund was established to come to the aid of a member of the tight-knit brewing community.  Ben, a very popular employee of the Redhook Brewery in New Hampshire, died tragically when a plastic keg that he was cleaning exploded.
"At the end of the day we all face the same hurdles and dangers in this business," said David Benfield, CEO of DuClaw Brewing Company. "So drink up, help out and be a H.E.R.O."
Donations can also be made directly to The Alysha Miller Harris Baby Fund c/o TD Bank 20 Portsmouth International Drive, Portsmouth, NH 03801 or call 603-430-3812.
Brewed by Vincent and Suzanne Powers of Nottingham, Maryland, this full-bodied stout perfectly balances a spicy, chipolte pepper bite with smooth, silky chocolate and a strong 7.5% abv. H.E.RO. '12 will be distributed by DuClaw Brewing Co. brewery in kegs and a limited run of 22-oz. bottles, available everywhere DuClaw beer is sold.
About DuClaw Brewing Company
Currently based in Bel Air, MD, DuClaw Brewing Company is a leading craft brewery founded in 1996. Having outgrown its current brewing facility, the company will be moving into a much larger space to keep up with growing demand for barrels of its ever-expanding lineup of specialty brews. DuClaw also operates pub restaurants in Arundel Mills, Bel Air, Bowie and BWI Airport that serve its award-winning craft beers on tap. Look for DuClaw beers in Maryland, Washington, DC, Virginia and South Central Pennsylvania. For more information on DuClaw Brewing Company visit www.DuClawBeer.com, like them on Facebook.com/DuClawBeers or follow them on Twitter @DuClawBrewing.