Hoppin' Frog Barrel Aged BORIS Van Wink Release on Black Friday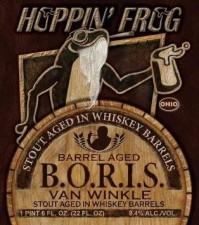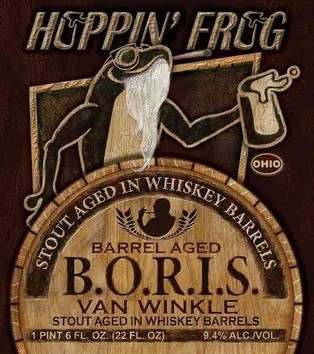 (Akron, OH) – We bought some really special Bourbon barrels to age a couple of our beers in, and the beers are ready now!!
So, we are releasing Barrel Aged BORIS Van Wink Imperial Stout starting Black Friday 11/29 and Small Business Saturday 11/30 at the Hoppin' Frog Brewery, both starting at 10 am. Also, a very special batch of Barrel Aged Frosted Frog Christmas Ale will be available then, aged in the same barrels! We can't say what Bourbon they are from, but they're the most special barrels we've ever received.
These very special beers will also be on tap exclusively in The Tasting Room at Hoppin' Frog Brewery! Because its a holiday, The Tasting Room will be open starting at noon on Friday, and 9 am on Saturday offering food specials paired with these beers. And a special waffle breakfast planned for Saturday! Our head brewer Lee collects antique waffle pans, and will be hanging-out with us making them in the tasting room. This is the third year for us doing a waffle breakfast, although it was informal years before.
We couldn't get any more of these special barrels that we received. So that will limit our production to just being available at the brewery and tasting room. Price for Barrel Aged BORIS Van Wink is $15.99 for a 22 ounce bottle, and Barrel Aged Frosted Frog is $13.99. There is a 1-cases limit on each. Hope to see you here for all the fun!!