Hop Trip Captures Fresh Hop Aroma at the Source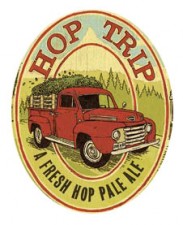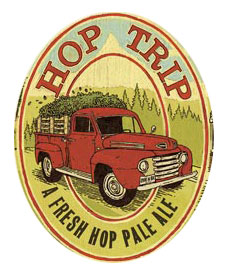 BEND, Ore. – Standing on a platform at the top of a massive hop kiln, Deschutes brewmaster Larry Sidor says he has identified the world's best aroma: freshly harvested hops. He says, "These are the aromas I want to capture and get into the beer. It just makes me want to jump in and roll around in there!"
From that love of hops comes "Hop Trip," the ultimate beer lover's road trip, culminating in the brewing of Hop Trip, a fresh hop pale ale, to celebrate Oregon's Fall hop harvest. See video.
Each Labor Day, when the Crystal hops mature in Oregon's Willamette Valley, Deschutes brewers drive trucks over the pass from Bend, Oregon. Bright and early the next morning, they're in Doug Weather's hop fields in Salem for the harvest.
"We couldn't do this without Doug," says Jimmy Seifrit, a Deschutes brewer who joins the hop trip most years. "We work with him to pick the right day for harvest so we can get there before the hops go into the kiln and lose their intoxicating nectar."
Sidor says, "We don't event let them go near the kiln. We have a secret door that diverts them into our bags prior to the kiln."
After collecting 5,000 pounds of fresh hops in 250-pound bags, Seifrit and crew call the brewery, alerting them to start the kettle. When they arrive, they immediately add roughly 680 pounds of Crystal hops per 120-barrel batch. The crew also adds heaps of dry-kilned flower hops.
"In order to achieve the bittering potential of kiln hops, we would have to use five times as much wet hops. That's more vegetative material than we could extract in a 60-minute boil. Plus, that much exposure in the kettle would drive off all the flavor and aroma of the wet hops," explains Seifrit.
Hop Trip contains approximately six pounds of fresh and dry-kilned hops per barrel brewed. For comparison, Mirror Pond Pale Ale contains one pound of hops per barrel brewed.
The result? "I would describe the flavor as a bright but pungent citrus intertwined with Fall spice," Seifrit says.
Hop Trip Availability
Hop Trip will be available in 22-ounce bottles across the Western US only from October through December. Like other ales in the Deschutes Bond Street series, this fresh hop pale ale originated in the flagship pub on Bond Street in downtown Bend, Oregon.  Suggested retail price is $5.00 per 22-ounce bottle.
Beer Geek Information:
5.2% Alcohol by Volume (ABV)
30 International Bittering Units (IBUs)
Beer-Food Pairing:
The brewery team recommends pairing Hop Trip with a classic cheeseburger, BBQ chicken pizza, or chicken almond salad.
Best Setting for Consumption:
With friends, anywhere you can see the sunset.
About Deschutes Brewery
Located in beautiful Bend, Oregon, Deschutes Brewery overlooks the wild and scenic Deschutes River. It also brews an impressive collection of award-winning craft beers. Starting as a local brew pub in downtown Bend in 1988, Deschutes Brewery now sells beer across the western U.S. and recently opened a second public house in Portland, Oregon's Pearl District. Deschutes Brewery's craft beers range from local favorites Mirror Pond Pale Ale and Black Butte Porter to adventurous brews like Hop Trip and The Abyss. For more information about Deschutes Brewery and its award-winning craft beers, please visit www.DeschutesBrewery.com.