Hi-Wire Brewing's Next Lager Seasonal: Enchanter Baltic Porter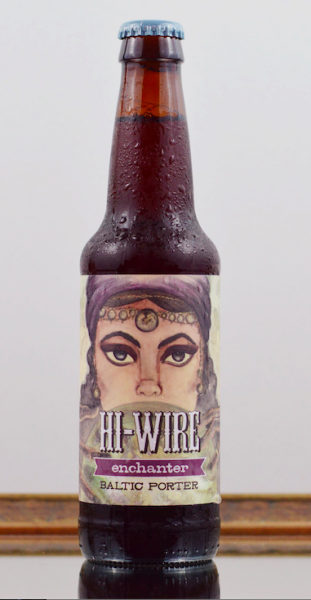 (Asheville, NC) – Hi-Wire Brewing is set to release the newest beer in its Lager Seasonal Series, Enchanter Baltic Porter. The third installment in this series, this beer will hit shelves early 2016 in 6-packs and on draft.
This robust Baltic Porter has a big, creamy mouthfeel and distinct chocolate notes. Deep mahogany in color and 8.5% ABV, Enchanter balances a traditionally sweeter style with the addition of American white oak spirals. Spirals were added late in the brewing process to add a hint of tannic dryness to the beer.
"We added spirals that had a medium plus toast, similar to the toast of a brand new red wine barrel," said Luke Holgate, Head Brewer at Hi-Wire Brewing. "The spirals not only add oak character and dry out the sweetness a bit, they also micro oxygenate the beer. The new barrel spirals were used as a nod to the way this beer was made when it was shipped across the Baltic Sea. Historically they were fermented and thrown into oak casks to make the journey. That oak character would have resulted in a drier, more drinkable beer."
Baltic Porters are a lesser known style in the United States, as porters brewed with ale yeast, such as robust and brown porters, are more commonplace. Yet, there is a movement afoot that is changing Americans' drinking patterns and craft lagers are finding a resurgence in the States.
"I think that there has been a shift in American's perception of what craft beer is," added Holgate. "Craft beer is continuing to appeal to a broader and broader base of drinkers who aren't always looking for super high ABV, super bitter, super dark, super hoppy beers. Additionally, craft drinkers are becoming more educated and are losing their perception that lagers are only light, low ABV beers. Enchanter finds a happy balance by being a bigger beer with a higher ABV that doesn't overwhelm the palate since it was allowed to lager for a long period. You can drink more than one pint of this beer with dinner."
Each of Hi-Wire's craft lagers are allowed to age for 8 to 10 weeks, resulting in clean and crisp beers that don't sacrifice flavors for increased production. Lager yeast makes Enchanter robust and full-bodied while maintaining an approachable and balanced flavor that Hi-Wire has become known for.
About Hi-Wire Brewing
Located in Asheville, NC, Hi-Wire Brewing is known for producing approachable and balanced ales and lagers, most notably Hi-Wire Lager, Prime Time Session Pale Ale, Bed of Nails Brown, and Hi-Pitch IPA. They have two locations in Asheville; the 27,000 square foot Big Top Production Facility and Taproom located a half mile from the Biltmore Estate and the South Slope Specialty Brewery and Taproom located in the South Slope region of downtown. Hi-Wire was awarded the most medals at the 2014 NC Brewer's Cup and was named Best New North Carolina Brewery of 2013 by RateBeer. Their award-winning beers can be found on draft and in bottles across North Carolina, South Carolina and Tennessee.
www.hiwirebrewing.com – @HiWireBrewing – Facebook