Hi-Wire Brewing Announces Tennessee Distribution Launch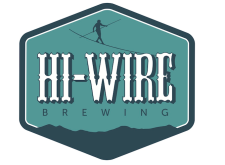 (Asheville, NC) – In the last 6 months, Asheville based Hi-Wire Brewing, which was named Best New North Carolina Brewery of 2013 by RateBeer, underwent an extensive expansion and brought on line their 27,000 square foot Big Top production facility (2 Huntmans Place, Asheville, NC). The increased brewing capacity allowed the two year old brewery to not only make a larger amount of their well known flagship beers but also introduce new ones to the lineup, including a series of lager seasonals. The expansion also gave the brewery the opportunity to launch new markets, including South Carolina in September and, in the month of October, Tennessee.
Hi-Wire Brewing will partner with the distributor Lipman Brothers to bring their beer into Tennessee. To celebrate the launch of the state, co-owners Adam Charnack and Chris Frosaker will join Hi-Wire salesmen to put on specialty pint nights, in the Nashville area the week of October 26th and Chattanooga and Knoxville areas the week of November 1st. The Nashville events will take place at the following bars:
Tuesday, Oct 27th at Craft Brewed located on 2502 Franklin Pike in South Nashville
Wednesday, Oct 28th at The Filling Station located on 904B Main Street in East Nashville
Thursday, Oct 29th at Tenn Sixteen Food & Drink Co. located on 1016 Woodland Street in East Nashville
Thursday, Oct 29th from 4pm-7pm at Frugal MacDoogal Wine and Liquor Warehouse located at 701 Division Street
These events will showcase a variety of Hi-Wire's award winning flagship beers including Hi-Pitch IPA, a balanced IPA brewed with Centennial and Zythos hops; Bed of Nails Brown, a hopped brown ale that is Hi-Wire's best seller in North Carolina; Hi-Wire Lager, a crisp, easy drinking lager; and Prime Time Session Pale Ale, an aggressively hopped pale ale that is light on the palate. Craft beer drinkers will also be able to enjoy their current fall seasonal, Strongman Coffee Milk Stout.
In addition to these core beers, Hi-Wire will celebrate the launch of Tennessee by bringing rare beers from their specialty brewery. These beers include the Farmhouse Series Volume 2: Peach Rye Saison, a Pumpkin Vienna Lager and draft only releases of a Rye Kolsh and a Dark English Mild.
About Hi-Wire Brewing
Located in Asheville, NC, Hi-Wire Brewing is known for producing approachable and balanced ales and lagers, most notably Hi-Wire Lager, Prime Time Session Pale Ale, Bed of Nails Brown, and Hi-Pitch IPA. Hi-Wire was awarded the most medals at the 2014 NC Brewer's Cup and Best New North Carolina Brewery of 2013 by RateBeer. Hi-Wire's award-winning beers can be found on draft and in bottles across North Carolina. As of July 25th, craft beer drinkers are able to enjoy Hi-Wire beer at their new Big Top location, a 27,000 square foot production facility located a half a mile from the Biltmore Estate. In addition to their flagship beers, Hi-Wire offers a rotating selection of seasonals, including Lion Tamer Rye IPA, Strongman Coffee Stout, Zirkusfest Oktoberfest Lager and Twice as Nice Doppelbock as well as a variety of single release beers brewed and bottled in their South Slope Taproom and Brewery.
www.hiwirebrewing.com – @HiWireBrewing – Facebook