Help Dogfish Head Put The Finishing Touches on Grateful Dead Collaboration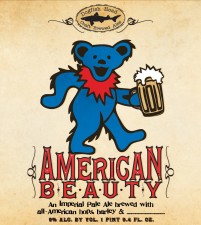 From Dec. 1 to Dec. 31, 2012, Dead Heads and Dogfish Heads are encouraged to help put a few finishing touches on the American Beauty collaboration.
Dogfish and Grateful Dead have settled on a strong pale ale with all-American hops and barley, and now they're asking their loyal fans to visit submityourstory.dogfish.com to suggest the final ingredient — and the Dead-inspired story behind it.
Did you trade a bushel of fresh clementines for tickets to a two-night-stand at Long Beach Arena? Or maybe your dad first laid eyes on your mom sipping a cup of green tea in the parking lot of the legendary Cornell '77 show? Jog your memory, tell the story, and suggest the ingredient at the heart of that story. You could help bring this counterculture collaboration to life.
A panel from the Dogfish Head and Grateful Dead teams will pick the ingredient they feel works best in the context of a strong pale ale recipe. The brewery and band hope to invite the fan who suggested the ingredient to Dogfish's coastal Delaware brewpub in the spring of 2013 to help brew a test batch.
American Beauty is expected to hit taps and shelves throughout Dogfish's 27-state distribution network in October 2013. For information, contact Dogfish Head Marketing Manager Maria Grieshaber at [email protected]
For more information on Grateful Dead Consumer Products & Brand Licensing contact: Sara Nemerov, [email protected] or Jasen Wright, [email protected]
About Dogfish Head Craft Brewery
Dogfish Head makes off-centered ales for off-centered people. Since 1995, Dogfish has brewed with nonstandard ingredients such as raisins, chicory, maple syrup and grapes, changing the way people think about beer. Dogfish believes beer can have as much flavor, complexity, diversity, food-compatibility and ageability as the world's finest wines. To discover your favorite off-centered ale, visit www.dogfish.com.
About Rhino Entertainment
Based in Burbank, California, Warner Music Group's Rhino Entertainment was founded in 1978 and is the world's leading pop culture label. Emphasizing flawless sound quality, bonus tracks, informative liner notes, award-winning creative packaging, an offbeat sense of humor, and a strong social conscience, Rhino continues to set the standard for excellence in the reissue business it pioneered in both the physical and digital worlds. Rhino is also expanding the definition of what a catalog music company is, as evidenced by the label's recent name and likeness representation deal with Frank Sinatra and its multi-faceted relationship with Grateful Dead. The vast Rhino catalog of more than 5,000 CDs, videos, and digital exclusive albums features material by Aretha Franklin, Ray Charles, The Doors, Chicago, Black Sabbath, John Coltrane, Yes, Alice Cooper, Linda Ronstadt, The Ramones, The Monkees, Carly Simon, Curtis Mayfield, among many others.