Heavy Seas Beer Unveils 2015 Release Schedule Ft. Uncharted Waters Series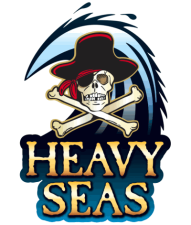 (BALTIMORE, MD) — Heavy Seas Beer is pleased to announce several new additions to its beer portfolio for 2015. A session IPA, an English-style porter, a double IPA, and a summer ale are among the new year-round and seasonal offerings.
The limited-release series "Uncharted Waters" will also have new additions, including a barrel-aged Belgian-style tripel, a coffee-bourbon porter, a saison aged in Chardonnay barrels, and a gingerbread rum barrel-aged weizenbock. Finally, two new retailer programs – a special cask ale program and an extremely limited draft-only program – will be offered, rounding out the changes for 2015.
"After being capacity constrained for the last few years, it is exciting to be able to dive into some new projects for 2015," said Hugh Sisson, founder of Heavy Seas Beer. "The biggest addition will be our new CrossBones session IPA – featured year-round starting in January." This is Heavy Seas' first new year-round offering since 2003.
Details below.
January releases above: Deep Six (NEW seasonal), Siren Noire (returning coveted Uncharted Waters beer), and CrossBones (NEW year-round). Please credit all photos to Heavy Seas Beer.
New Year-Round Beer:
CrossBones: Session IPA
New Limited Seasonal Beers:
Deep Six: English porter (available January – March)
Double Cannon: Double IPA (available April – June)
Smooth Sail: Summer ale (available April – September)
New Uncharted Waters Series:
Phantom Ship: Barrel-aged Belgian tripel (available March – April)
Blackbeard's Breakfast: Coffee-bourbon porter (available May – June)
Red Sky at Morning: Belgian-style saison aged in Chardonnay barrels (available July – August)
Yule Tide: Gingerbread rum-barrel-aged weizenbock (available November – December)
New programs for retailers:
The Desert Island Series is a series of draft-only beers that give free rein to our brewers to make a beer they each yearn to brew. Each beer in the series will be limited to only 100 barrels. The styles of beer for each month are as follows:
February – Strong Scottish ale (8% ABV)
April – Schwartzbier (5.4% ABV)
June – American honey amber ale (4.9% ABV)
August – "New World" saison (6.5% ABV)
October – Smoked dunkel (5.4% ABV)
December – Dopple sticke alt (9% ABV)
The Funky Firkin Program will feature limited specialty firkins available quarterly at select retailers. A firkin is a type of cask, which is the traditional way of serving ale. Firkins to expect from this program include Citrus Loose Cannon and Bourbon Peg Leg, as well as others.