Harpoon Joins The Black IPA Club with 100 Barrel Series Black IPA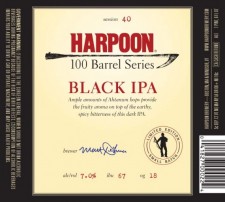 Boston, MA (February 2, 2012) – The Harpoon Brewery has released the latest installment of their 100 Barrel Series, Black IPA. This is the 40th offering from Harpoon's 100 Barrel Series, the brewery's line of unique, handcrafted limited batch beers.
Harpoon brewer Matt DeLuca took over the brewhouse to create this Black IPA. Brewed with a new specialty malt from Briess called Midnight Wheat, this beer has an almost stout-like appearance, without the overly roasty attributes often associated with traditional dark malts. Flaked barley was also used in the malt bill for head retention.
"I wanted this Black IPA to be a very hop-forward beer; having a huge, hoppy nose was important to me," says Matt.  On top of the Chinook, Simcoe, Cascade, and Citra hops is an ample addition of Ahtanum hops that provides a fruity aroma to complement the earthy, spicy bitterness of this dark ale.  This intense, diverse hop addition yields a well-balanced offering.
The Harpoon 100 Barrel Series Black IPA is now available in 22 oz. bottles with limited draft availability.  A video featuring Matt talking about the beer can be viewed at www.harpoonbrewery.com/blackipa.
Harpoon 100 Barrel Series Black IPA Beer Specifications:
ABV:  7%
O.G.:  18
IBUs:  67
Harpoon introduced the 100 Barrel Series in 2003 to showcase the individual brewing talents of their brewers. Every couple months, a different Harpoon brewer is invited to choose a style of beer, formulate the recipe, and brew the beer.  That brewer's signature can be found on the bottle label. The beers in the series are one-offs; they are brewed in limited batches and are available only until the batch sells out.  Since the series began in May of 2003, 40 different styles of beer have been brewed.  For a complete list of beers that have been released as part of the 100 Barrel Series, visit www.harpoonbrewery.com.
For additional information about the Harpoon Brewery and the Harpoon 100 Barrel Series, please contact Liz Melby at [email protected].
About the Harpoon Brewery:
The Harpoon Brewery was founded by beers lovers, Rich Doyle and Dan Kenary.  In 1986 Harpoon was issued Brewing Permit #001 by the Commonwealth of Massachusetts, since it was the first brewery to brew commercially in the state after a dormant period of about 25 years.  Harpoon's line of craft beer features its award-winning IPA and UFO Hefeweizen beers, along with four special seasonal selections. In 2000 Harpoon purchased a second brewery in Windsor, VT, making Harpoon the 9th largest craft brewer in the US.  Harpoon has since introduced two lines of limited edition beers, the 100 Barrel Series and the Leviathan Series, as well as the all-natural Harpoon Cider made from freshly pressed, local apples.  For more information about Harpoon beers and visiting the breweries, visit www.harpoonbrewery.com.