AleSmith Decadence 2011 Will Be….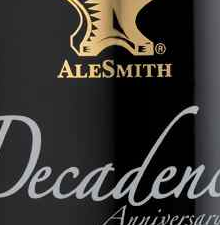 The wait is over!  AleSmith Decadence 2011 has been brewed, bottled and will be released at the brewery on Wednesday, February 29th, 2012.
AleSmith Decadence Anniversary Ale was originally brewed in 2005 to celebrate our first decade in business.  Our brewers had such a great time concocting AleSmith Decadence that they decided to make it an annual event and brew a new style each year to commemorate our Anniversary.
AleSmith Decadence 2011 was brewed to combine two styles, smoked beer and barleywine to create our unique homebrew-inspired Maple Smoked Barleywine.  Containing a pleasant Bamburg smoked-malt character that richly compliments the pure Vermont Maple Syrup, AleSmith Decadence 2011 is sure to deliver a memorable drinking experience!
The bottles will go on sale at 2pm on Wednesday, February 29th in the tasting room ($13.00 per bottle, six bottle limit) and will be available at better bottle shops and select retail accounts in the following weeks. There is a very limited amount of draft of this beer and we will only be offering tasters of the beer in the tasting room (no growler fills).