Hangar 24 Brewery Updates Branding, Introduces New Beer
(REDLANDS, CA) – In the spirit of shared adventures and authenticity, and to celebrate the approaching 10th anniversary celebration, Hangar 24 Craft Brewing is announcing a brand evolution that has been a year in the making, with a new vibrant look across all its core brands, as well as the introduction of a new core beer.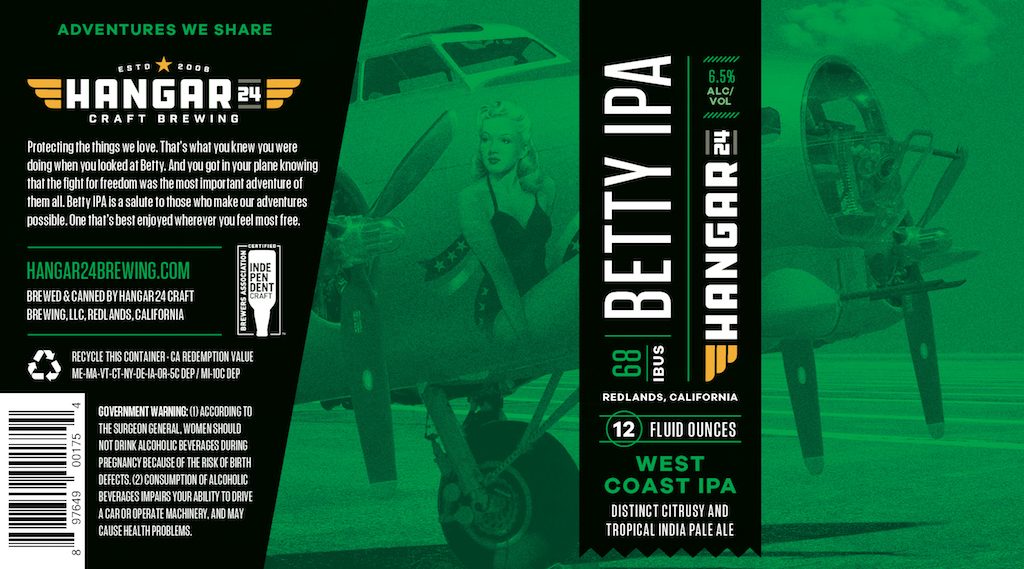 Aventura Mexican Style Lager, with a touch of sea salt from the Sea of Cortez, and fresh whole Southern California limes, will make its debut at the Redlands Taproom on Cinco de Mayo (May 5). It is scheduled to be available at craft beer retailers later in May.
Adventures are to be shared, and the stories of those experiences often live on through photographs. So new labels on bottles and cans of Hangar 24 beer will include both visual photographic imagery, as well as label story text. While Aventura is brand new, the flavors of classics like Orange Wheat and Betty IPA will remain the same. The new Orange Wheat label will feature a plane flying low over a local orange grove. Betty IPA's label will include a photo of Betty herself.
Our blonde ale will be getting new clothes and an updated recipe. The new Peak Blonde Ale will have a label that includes a helicopter flying over a snowy peak.
Hangar 24's fresh new take on things is our way of representing our aviation, adventure and authenticity roots. We love sharing adventures with people. We love being on your adventures and we love sharing our liquid adventures and epic stories of humanity. "Adventures We Share" is a promise and an invitation all at once. The stories of adventure are something to pass along. Let's celebrate together and share it.
With the Hangar 24 Airfest & 10th Anniversary Celebration approaching May 19-20, it was the perfect time to take flight with a new look and a refreshing new been in Aventura Mexican Style Lager. The photography on these new bottles and cans is one adventure we share with you, and there is more on Instagram and Twitter (@Hangar24Brewing), as well as on our Facebook page at "Hangar 24 Craft Brewing." We invite you to join the adventure using the hashtag #AdventuresWeShare.
###
About Hangar 24 Craft Brewery
Hangar 24 is an independently owned craft brewery with locations in Redlands and Lake Havasu City, Arizona. The company produces a diverse award-winning line of beers ranging from the best-selling Orange Wheat to the exclusive barrel-aged Barrel Roll Series, including the renowned Pugachev's Cobra. Visit hangar24brewing.com, or find us on Facebook, Instagram and Twitter.