Greg Koch Wins San Diego Business Journal's "2012 Most Admired CEO"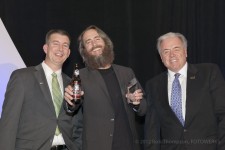 Stone Brewing Co. CEO and co-founder, Greg Koch, wins San Diego Business Journal's "2012 Most Admired CEO"
Escondido, CA – The image of San Diego CEOs is changing. "You may want to consider updating the way you portray CEOs in San Diego on your program," joked Stone Brewing Co. CEO and co-founder, Greg Koch, as he looked at the San Diego Business Journal's event program. The cover featured images of men and women dressed in formal business attire: suits, ties, and dresses, with neatly coiffed hair.
In the ceremony hosted by the San Diego Business Journal on December 6, 2012, a scruffy-bearded, jeans-wearing, Stone Pale Ale-holding Koch was named "2012 Most Admired CEO" among San Diego County's privately held large companies. When announcing the winner, judge Jim Wening credited Koch with "pioneering the craft beer movement in San Diego," and noted that Koch is one of San Diego's most visible CEOs.
Thunderous applause from everyone in the room greeted Koch as he strode towards the stage to accept the award. In his speech, he credited Stone brewmaster & co-founder, Steve Wagner, and Stone employees for the craft beer company's dramatic success. "I am humbled and honored to be recognized by the San Diego Business Journal as one of San Diego's most admired CEOs," Koch reflected. "I couldn't have done it without the dedicated people that make up our company. I know the raucous cheering and applause was positive confirmation of the things our talented team has accomplished to make a difference in craft brewing, the food movement and in our community, rather than just for me personally. I was lucky enough to be called to the podium to receive recognition, but greater acknowledgment must be given to Team Stone for the awesome jobs they do. Stone Brewing is unquestionably the result of a team effort!"
From a field of 106 finalists, nine CEOs, including Koch, were chosen by judges based on their contributions to their companies and the community, with emphasis on innovation, leadership and financial growth. The independent panel of judges included Mike Barone, president and CEO at Intercare Insurance Solutions; Ruben Barrales, president and CEO at the San Diego Regional Chamber of Commerce; Reid Carr, president at Red Door Interactive; Ronne Froman, chairman of the board of directors of the Monarch School; John Morrell, chairman and managing partner at Higgs Fletcher & Mack LLP; and Jim Wening, president at JP Morgan Chase.
ABOUT STONE BREWING CO.
Twice named "All-Time Top Brewery on Planet Earth" by BeerAdvocate magazine, Stone Brewing Co. was founded in 1996 by Greg Koch and Steve Wagner and is the 11th largest craft brewer in the U.S. Headquartered in Escondido, CA, Stone owns and operates the farm-to-table restaurant Stone Brewing World Bistro & Gardens – Escondido, as well as Stone Catering, Stone Distributing, and Stone Farms. Other lofty ventures include construction of Stone Packaging Hall which will be operational by the end of first quarter 2013, a second restaurant with an on-site brewhouse, Stone Brewing World Bistro & Gardens – Liberty Station opening April 2013, and Stone Hotel & Headquarters opening late 2014. For more information, please visit stonebrewing.com or on social media sites: Twitter, Facebook, Instagram, Google+, YouTube, and The Stone Blog.