Great Notion Brewing Begins Shipping Summer Subscription Box
(Pacific Northwest, USA) – Northwest-based brewery Great Notion (GNB), known for its innovative mobile app, "culinary-inspired" brews and fun forest-characters, is excited to announce that another beta version of a 3-month subscription box is now available for a super limited time on its app!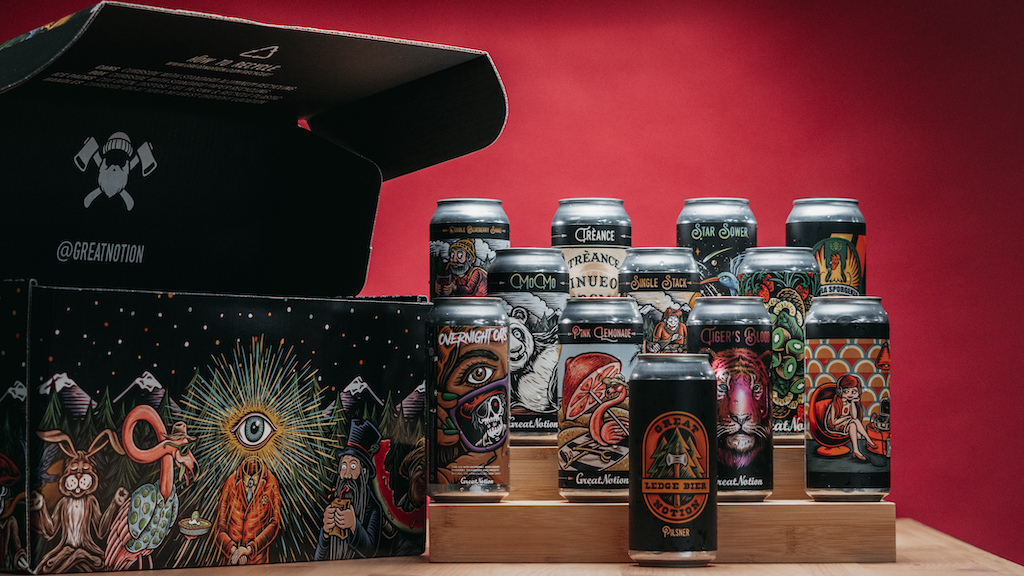 GN's Summer Subscription Boxes contain 12 mostly-unique single cans representing the best of the month's drops, and will showcase a diverse range of styles, ABV, and flavor profiles.
Limited spots are open NOW on the GN app! Beer drinkers can sign up until 6/3 or while supplies last, for folks in OR, WA, CA, NH, VT, DC, KY, ND, PA, OH, NE, and VA!
GN will offer shipping to the states above, and local pickup at NW28th (PDX), Georgetown (SEA), or the brewery's Sacramento Fulfillment Center. Subscribers make a one-time, flat-rate purchase that will guarantee a half-case box (12 x 16oz cans) for each of the summer three months. Boxes are not ready for immediate pickup nor shipping until the end of June, July, and August. Beer drinkers will need to keep an eye on their inbox for shipping/pick-up dates.
More information can be found at GN's Subscription Box FAQ website here.
"Our customers have been asking to buy mixed-packs for our beers for a long time now," says CEO Paul Reiter. "Subscription boxes definitely #KeepBeerFun, so it was a no-brainer for us to try to roll out a service to let people try a plethora of Great Notion beer all in one box."
In the Autumn, Great Notion hopes to allow recurring monthly credit card payments for their Subscription Boxes, as well as being able to accept purchases through a new e-commerce website.
ABOUT GREAT NOTION
Great Notion (GNB) is a brewery started by three friends and neighbors in Portland, OR that offers hazy,
fruit-forward IPAs and "culinary-inspired" sours & stouts sold directly to customers through a creative new mobile app. GN has won numerous Gold and Silver medals, including accolades at World Beer Cup, GABF, Best of Craft Beer Awards, and Oregon Beer Awards, as well as the 2018 #1 IPA in America from Paste Magazine. GN ships direct to homes in 12 states and has 5 taprooms in the Pacific Northwest: @greatnotionalberta , @greatnotionnw and @greatnotionbeaverton in Portland, @greatnotionballard and @greatnotiongeorgetown in Seattle, with a fulfillment center in California @greatnotioncali. Please visit @greatnotion to download the GN mobile app or for more information.