Great Divide Releases Two New Seasonals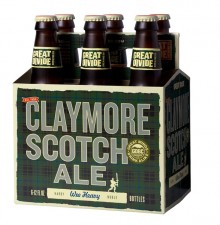 Great Divide Releases Claymore Scotch Ale and Espresso Oak Aged Yeti Imperial Stout
Two new beers lead the 2009 lineup of seasonal releases
On February 13, 2009, Great Divide Brewing Company, one of America's most acclaimed craft breweries, will release Claymore Scotch Ale and Espresso Oak Aged Yeti Imperial Stout as the first offerings in a new lineup of rotating seasonal releases.
Named for a medieval Scottish sword, Claymore Scotch Ale is a tribute to the legendary "Wee Heavy" beers of Scotland. A malty, deep-ruby-hued ale, it features a generous amount of caramel sweetness, a reserved hop profile and a subtle warming character, at 7.7% alcohol by volume. Claymore will be available in six-packs and on draft through mid-April.
"We still love hops, but we wanted to brew a more malt-forward beer for a change," says Great Divide founder and president Brian Dunn. "And since it's still winter, it made sense to brew something with a bit of warming alcohol character. Wee Heavy is sort of an underappreciated —not to mention delicious—style, so we decided that it would be the perfect fit. We're excited," he concludes. "It'll stand up to the best of them."
Espresso Oak Aged Yeti Imperial Stout is a skillful blend of the award-winning Oak Aged Yeti with a generous amount of espresso sourced from Denver's own Pablo's Coffee. The espresso combines with Oak Aged Yeti's vanilla oak character, intense roasty maltiness and bold hop profile to create a truly heady experience. Espresso Oak Aged Yeti weighs in at 9.5% alcohol by volume and 75 International Bittering Units. It will be available in 22-ounce bottles and on draft through mid-April.
"Imperial stouts already tend to have undertones of coffee, so the infusion of espresso makes for a perfect complement to Oak Aged Yeti's already complex flavor," says Dunn. "We've been playing around with this beer for a while, trying to achieve the right amount of espresso character, and we've finally got it exactly where we want it. The espresso is prominent but not overwhelming; coffee and beer have never tasted so good together."
Claymore and Espresso Oak Aged Yeti will be the first beers in a new seasonal schedule that Great Divide is debuting this year. Claymore will be part of a series of four rotating six-packs, which will also include the brewery's original winter seasonal, Hibernation Ale. Espresso Oak Aged Yeti will lead a new series of rotating 22-ounce bottles, which will include established favorites Oak Aged Yeti and Old Ruffian Barley Wine as well as several new beers to come.
"We need to keep things fresh around here, even if only for our own amusement," says Dunn. "Our brewers have a bunch of new recipes they've been itching to try out; introducing nine new beers in a year will be a challenge, but we're up to it. We're excited to continue our tradition of being on the cutting edge of assertive yet balanced and drinkable beer. This is going to be a great year for us."
Great Divide is one of the most decorated craft breweries in the US. The brewery has won 13 medals at the Great American Beer Festival, held each year in Denver, Colorado. In addition, Great Divide was ranked 14th in Ratebeer.com's 2008 "The Best Brewers in the World" and it was ranked 7th in Beer Advocate's 2008 "All-Time Top Breweries on Planet Earth."
In 2003, the brewery was one of craft beer's first to defy the mainstream and expand its focus to bigger, more assertive beers that reflected the original spirit of the company. The move to more challenging beers has helped Great Divide grow to 8,986 barrels of beer production in 2008.
In 1994, Great Divide set up shop in an abandoned dairy/yogurt plant on the north edge of downtown Denver. The company has expanded several times at that location. The Great Divide Tap Room is a hit with local beer lovers and Denver visitors.
For details on all of Great Divide's beers visit www.greatdivide.com.