Great Divide Chocolate Oak Aged Yeti, Rumble Oak Aged IPA and 20th Anniversary Ale On Deck
(Denver,CO) – Great Divide Brewing Company today revealed the early April release of its highly anticipated 2014 second quarter seasonals. This release includes the debut of the brewery's 20th Anniversary Ale, as well as a new season for perennial favorite Rumble Oak Aged IPA. Additionally, Chocolate Oak Aged Yeti Imperial Stout makes its first return since winning gold at the 2013 Great American Beer Festival.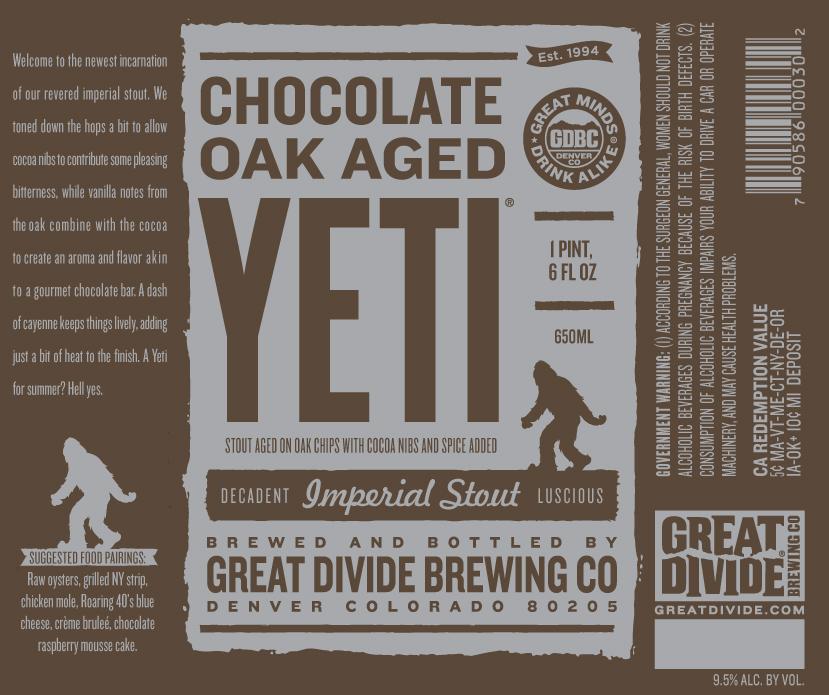 To celebrate the brewery's milestone 20th Anniversary, Great Divide approached its annual anniversary ale from an entirely new perspective. A Belgian-style Ale fermented with Viognier grape juice (a French white wine variety of grape known for its fruity, floral aromatics and crisp finish), 20th Anniversary is a golden example of the brewery's traditional bold character, but with a little something special to commemorate the occasion. Big without being brutish, cunning without being cloying, this is a grown-up beer for a big-time celebration.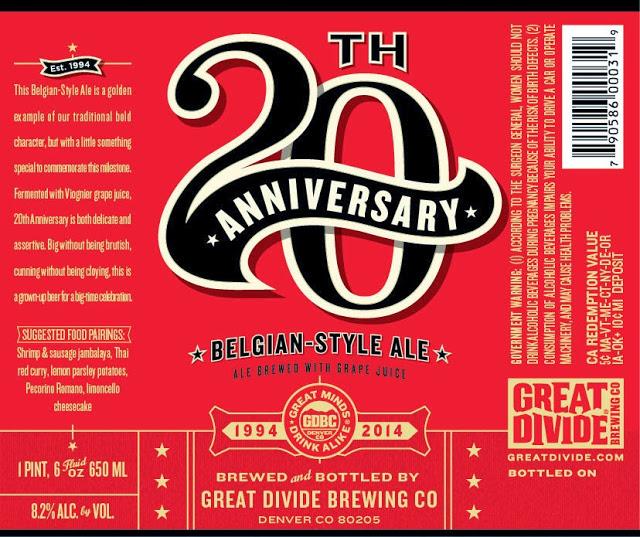 Rumble Oak Aged IPA makes a big shift this year and will land on shelves in a brand new season. Available April through June, instead of its previous third quarter release, Rumble is set to match up perfectly with the cooler spring weather. An American IPA brewed with heavy handed additions of Pacific Northwest hops, Rumble is gently aged on French and American oak, resulting in a wonderful balance of bitterness, caramel sweetness, vanilla, and undertones of pine & citrus. At 7.1% ABV, Rumble is available in 6-packs and draft. This inspiring beer boasts an impressive RateBeer.com score of 96.
This April also marks the most triumphant seasonal return of Chocolate Oak Aged Yeti in the beer's rich history. Fresh off its 2013 Great American Beer Festival Gold Medal in the highly competitive chocolate beer category, Chocolate Oak Aged Yeti is one of the most revered incarnations of Great Divide's legendary Yeti Imperial Stout. A slightly toned-down hop addition allows cocoa nibs to contribute some pleasing bitterness, while vanilla notes from the oak combine with the cocoa to create an aroma and flavor akin to a gourmet chocolate bar. A dash of cayenne keeps things lively, adding just a bit of heat to the finish. At 9.5% ABV, it will be available in 22oz. bombers and 5-gallon kegs. Chocolate Oak Aged Yeti has earned a perfect RateBeer.com score of 100.
Additionally, all three beers will be available for purchase in their natural habitat – the Great Divide Brewing Company Tap Room – for on-site tasting and 64-ounce growlers to go.
Great Divide brews some of the globe's most balanced yet assertive and flavorful beers. These beers have landed an impressive amount of acclaim, earning 18 Great American Beer Festival medals and 5 World Beer Cup awards. Named "Top Brewer In Colorado" by Ratebeer.com (2013), 12th on their list of "Best Brewers In The World" (2013) and 7th on BeerAdvocate's "All-Time Top Breweries On Planet Earth" (2010), Great Divide is one of America's most decorated breweries. But why take their word for it? Crack open a bottle and decide for yourself.
Great Divide brewed 37,100 barrels in 2013, a 15% increase over 2012 production.