Great American Beer Festival Returns October 6-8, 2016
(Denver,CO) – 2016 Great American Beer Festival Celebrates 35 Years with the Largest Showcase of American Breweries. Ever.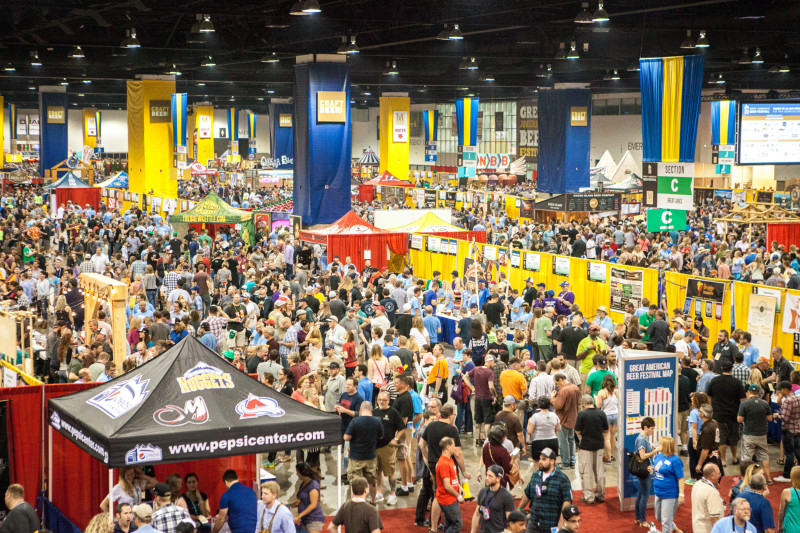 What:  For the 35th year in a row, beer lovers will gather in Colorado at theGreat American Beer Festival (GABF), the premier beer festival and competition in the U.S. With 379,000 square feet in the tasting hall, an anticipated 60,000 attendees will have the opportunity to sample some 3,800 beers from more than 800 breweries.
When:                          Thursday, October 6: 5:30 p.m. – 10:00 p.m.
                                    Friday, October 7: 5:30 p.m. – 10:00 p.m.
                                    Saturday, October 8*: 12:00 p.m. – 4:00 p.m.
                                    *Brewers Association and American Homebrewers Association members-only session
                                    Saturday, October 8: 5:30 p.m. – 10:00 p.m.
Where: Colorado Convention Center 700 14th Street Denver, Colorado
Why:  GABF has been bringing exceptional brewers and beer lovers together since 1982. Evolving with the booming craft beer industry and keeping up with Americans' desire to tap into indie beer, GABF is now the single largest ticketed beer festival and event with the biggest selection of beers in the U.S. Attendees have an opportunity to try a varied assortment of beers from all corners of the country and experience the eclectic U.S. beer community. Coupled with a private competition and awards ceremony, the overall event showcases the U.S. as the greatest and most diverse brewing destination on the planet.
Ticket Info: GABF tickets will be available for purchase to the general public online on August 3, 2016 at 10:00 a.m. MDT/12:00 p.m. EDT via Ticketmaster.com.
A ticket pre-sale exclusively for members of the American Homebrewers Association andBrewers Association will take place on August 2 at 10:00 a.m. MDT/12:00 p.m. EDT. You must purchase a membership to the American Homebrewers Association or Brewers Association byJuly 24, 11:59 p.m. PDT, to be eligible for the member pre-sale.
Members-Only Session tickets are $65 each, with a two ticket limit per member number.
General Session tickets are $80 public/$75 members (if purchased during the members only sale on August 2) and include:
Commemorative tasting cup
Unlimited one-ounce samples of your choice of 3,800 beers
Festival guide and free app to help attendees navigate the festival hall
Access to dozens of educational and interactive seminars across all four sessions, focused on beer appreciation
Opportunity to speak with brewery representatives in the Meet the Brewer Hall
Complimentary artisan cheese samples, craft soda samples and a variety of other food options
Entertainment including games, karaoke, Silent Disco with a live DJ and more
Note: Due to limited availability, GABF General Session ticket sales are capped at four tickets per session per ticket buyer.
Additional ticket information can be found on the GABF website.
Website:  GreatAmericanBeerFestival.com 
More Information:  Click here for Great American Beer Festival history, facts and figures.
2016 Sponsors:  GABF is made possible by the support of generous sponsors.
Social Media: Follow @GABF on Twitter, hashtag #GABF and #TGIGABF; Like GABF on Facebook; and follow @greatamericanbeerfestival on Instagram.
About the Brewers Association
The Brewers Association is the not-for-profit trade association dedicated to small and independent American brewers, their beers and the community of brewing enthusiasts. The Brewers Association (BA) represents more than 70 percent of the brewing industry, and its members make more than 99 percent of the beer brewed in the U.S. The BA organizes events including the World Beer CupSM, Great American Beer Festival®, Craft Brewers Conference & BrewExpo America®, SAVOR℠: An American Craft Beer & Food Experience, Homebrew Con, National Homebrew Competition and American Craft Beer Week®. The BA publishes The New Brewer magazine and its Brewers Publications division is the largest publisher of contemporary and relevant brewing literature for today's craft brewers and homebrewers.
Beer lovers are invited to learn more about the dynamic world of craft beer at CraftBeer.com and about homebrewing via the BA's American Homebrewers Association. Follow us on Twitter.
The Brewers Association is an equal opportunity employer and does not discriminate on the basis of race, color, national origin, gender, religion, age, disability, political beliefs, sexual orientation, or marital/familial status. The BA complies with provisions of Executive Order 11246 and the rules, regulations, and relevant orders of the Secretary of Labor.