Grayton Beer Announces New Seasonal Handful of Thorns
(South Walton, FL) – Grayton Beer Company, located in Santa Rosa Beach, Fla., is pleased to announce the release of its newest seasonal beer, Handful of Thorns. The limited-release session India pale ale made with fresh red roses began pouring into the Grayton Beer Company taproom, retailers, bars and restaurants this month.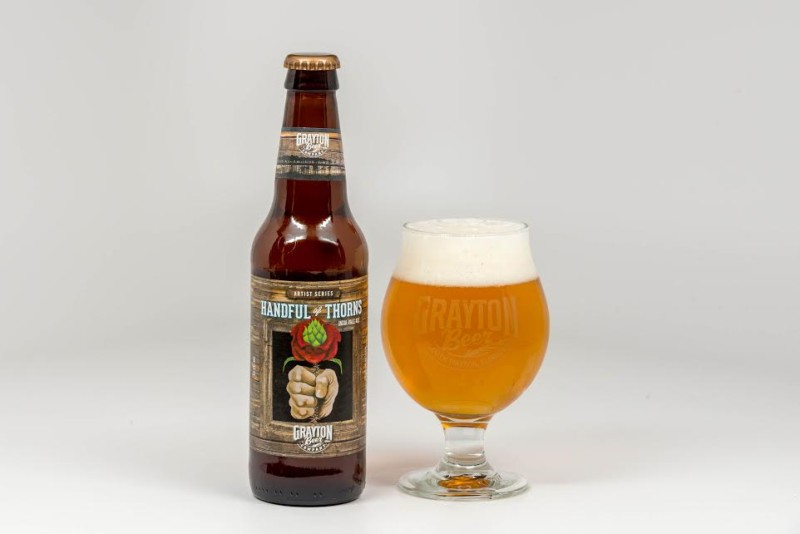 With an alcohol by volume (ABV) content of 6.7 percent, the new Handful of Thorns is a drinkable yet complex American Session IPA that lends itself to having more than one and is perfect for the hot summer weather. The simple and subtle dry malt bill with low sweetness builds an ideal stage on which to spotlight a unique floral hop profile and all of the complexities that fresh rose petals offer. The end result is an incredibly refreshing ale with earthy and herbal notes and a bright floral aroma.
This beer is very versatile when pairing with food, and its hop profile will serve well in cleaning up spiciness, making it a perfect complement for Cajun fare such as gumbo or jambalaya. The brew's strength allows it to enhance many dishes without overpowering and makes it a great companion for a low country boil or simple hot wings and pub fare.
"Inspired by Neil Young's 'Love is a Rose,' Handful of Thorns is a welcomed challenge to put a unique and complex spin on the increasingly popular IPA style of beer," says Brewer Tyler White. "The perfectly dry finish allows the subtleties of the beer to linger delicately while leaving the drinker wanting another sip. Unlike any other beer you have tasted, Handful of Thorns provides a unique drinking experience for beer aficionados and newbies alike."
Handful of Thorns is available in select locations that carry the South Walton brewery's other beers. The IPA is also a part of Grayton's Artist Series, a challenge the brewery put out to local artists to design select labeled beers where a portion of the proceeds would go toward art-based initiatives and charities in the Panhandle. The artwork used on the Handful of Thorns label was created by Bryan Hand, a Northwest Florida artist specializing in colorful, realistic acrylic paintings.
"We live in an area that is rich with artists, photographers and musicians, and we are glad to pay tribute to that by displaying artwork on our bottles in place of a traditional bottle label," says Grayton Beer Company President Jamey Price. "We are grateful to feature Brian's art on the Handful of Thorns label and look forward to showcasing additional local artwork on future Artist Series labels."
Grayton Beer Company currently offers four year-round styles of beer in its portfolio of brews that range from an Amber Ale, which carries the name 1890 Founder's Ale, a Belgian White, or Witbier, named White Dunes and a dry-hopped Pale Ale. The company also produces the 30A Beach Blonde Ale, which incorporates 30A.com's iconic blue logo.
About Grayton Beer Company
Founded in 2011, Grayton Beer Company is a locally owned and operated brewery on the Northwest Florida Coastline with an over 30,000 sq. ft. state-of-the-art facility to brew classic, contemporary beers. Grayton Beer Company brews its beers with an easy-going Gulf-Coast state of mind, using the finest available ingredients to provide pure, simple refreshment.
www.GraytonBeer.com – @graytonbeer – facebook