Grand Teton Releases Persephone Imperial Pilsner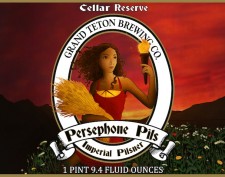 Persephone Imperial Pilsner is the latest release of Grand Teton Brewing Company's renowned "Cellar Reserve" program.
VICTOR, ID — Grand Teton Brewing Company, known throughout the West for their exceptional craft brews, will celebrate the release of Persephone Imperial Pilsner at their pub in Victor, Idaho on January 29th. This springtime brew, in their 2011 "Cellar Reserve" series of specialty beers, has the light body and smooth flavor of a traditional pilsner but twice the strength and a stronger hop presence than what is usually expected in this style of beer.
Persephone (pur-seff-uh-knee) Imperial Pilsner was brewed with one foot in the past and one in the present.  Grand Teton Brewing Company started by creating this beer in the German style, an offshoot of the original pilsner that features German noble hops and a lighter, crisper body than its Czech counterpart.  They used a blend of domestic Idaho 2-row barley and imported German malts as well as German Hersbrucker hops for flavor and aroma.  Grand Teton Brewing Company then took a leap forward by making this brew twice the strength of a traditional pilsner, with a big hop flavor to match.
After fermentation using a German lager strain, Grand Teton Brewing Company conditioned this brew for two months at freezing temperatures.  This maturation process is known as lagering (from the German meaning "to store") and the process lends its name to the broad category of beer known as lager.  This long lagering period is essential to create the smooth and well-rounded flavor expected from a pilsner. Grand Teton Brewing Company presents this beer in the German kellerbier tradition, where beer is brought to the consumer without filtration or pasteurization, and recommends serving it at 40 degrees in a traditional pilsner glass.
Persephone Imperial Pilsner pours a pale, glowing yellow with a bright white and frothy head. A light aroma of dried hay lifts from the glass, but the flavor is marked by soft mint flavors with sherbet-like overtones. A strong, resinous bitterness lingers on and on, blending into each new sip and providing a strong backbone for this brew. Persephone features a light body, but softer and rounder than the mass-produced versions of this style. Try Persephone Imperial Pilsner with grilled tuna steaks or white pizza topped with caramelized onions and brined olives. Or keep it German and pair it with bratwurst, sauerkraut and spicy brown mustard.
Despite the strength of this beer, Persephone Imperial Pilsner is not recommended as a candidate for extended cellaring. The light crisp body and deep hop flavors will fade with time, which means this brew is best consumed fresh.
The Persephone Imperial Pilsner label features original artwork by Victor, Idaho artist Gabby Prouty.  It depicts the return of Persephone from the Underworld, bringing with her the return of Spring. Persephone, daughter of Zeus and Demeter, was abducted by Hades and carried to the Underworld. The devastated Earth goddess Demeter allowed the world to become barren while she searched for her stolen daughter.  Answering the pleas of starving humans, Zeus ordered Persephone's release, but Hades tricked Persephone into eating pomegranate seeds.  By decree of the Fates, that meant that Persephone would have to return to Hades' realm every year, once again causing Demeter to grieve, and bringing about the winter season.
The Cellar Reserve series of beers are unique, different even from other craft beers. Grand Teton's Cellar Reserves are brewed with specialty hops and malts and unique strains of yeast.  Most ales and lagers are produced in 2-4 weeks.  However, up to 8 months are spent on each of the Cellar Reserve specialty brews.  They are also bottle-conditioned, which produces natural carbonation that will blend and smooth the flavors with time. Proper aging of these bottles creates beers to be cherished.  Grand Teton's Cellar Master provides regular tasting notes and aging updates on his web page, "Notes from Underground," at http://grandtetoncellar.blogspot.com/.
Grand Teton Brewing will release three specialty brews in the Cellar Reserve line for 2011.  The production quantity for each brew is very limited.
Persephone Imperial Pilsner is available at select locations in Arizona, California, Colorado, Idaho, Illinois, Kansas, Massachusetts, Minnesota, Missouri, Montana, Nevada, South Dakota, Washington, Wisconsin and Wyoming!  Call the brewery at 1-888-899-1656 for information and availability on this exciting new product.
Grand Teton Brewing Company was founded in 1988 as the first modern "micro" brewery in the state of Wyoming. Today, Grand Teton Brewing Company is in the Brewer's Association's "Top 100 Craft Breweries in North America".  Their premium microbrews include the 6x gold-medal-winning Bitch Creek ESB, the 2009 Great American Beer Festival Gold Medal Winner (American Pale Ale) Sweetgrass APA and the favorites of the Yellowstone and Grand Teton National Parks; Old Faithful Ale (pale golden), Howling Wolf Weisse Bier (hefeweizen) and Teton Ale (amber).  From their production facility in Victor, Idaho, Grand Teton Brewing Company beers are hand-crafted from only the finest ingredients, including locally-grown grains and pure Teton mountain spring water.  Grand Teton Brewing Company is a green company utilizing environmentally conscious and sustainable practices whenever possible.  Grand Teton Brewing Company is also the inventor of the modern glass growler, which is estimated to have saved over one billion bottles and cans from entering the ecosystem to date.  Discriminating beer drinkers can find their favorite Grand Teton Brewing Company brews on tap and in bottles throughout Arizona, California, Colorado, Idaho, Illinois, Kansas, Massachusetts, Minnesota, Missouri, Montana, Nevada, South Dakota, Washington, Wisconsin and Wyoming.