Grand Teton Releases Barrel-Aged Double Vision Doppelbock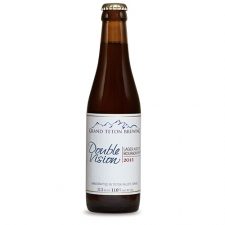 (Victor, ID) – Grand Teton Brewing Company, known throughout the West for their exceptional craft brews, announces the newest release in their Brewers' Series, Barrel-Aged Double Vision Doppelbock.
The fifth release in Grand Teton Brewing's Brewers' Series is Barrel-Aged Double Vision Doppelbock. The lager was aged ten months in 7-year-old bourbon barrels to create a complex, velvety-smooth beer.
Barrel-Aged Double Vision Doppelbock boasts cocoa, dark fruits, chocolate and subtle coffee notes from the heavy dark and roasted malt bill. This is a strong beer, full of flavors and aromas hidden deep within its many layers, making it the ideal candidate to sip slowly as the beer's temperature rises. For the full experience, pour this beer into a snifter, tulip or wine glass and hold it in the palm of your hand to help warm the beer, releasing all the hidden flavors and aromas.
ABV: 11.0% • Lovibond 47.0º
Barrel-Aged Double Vision Doppelbock will be available as a one-time release February 15, 2017 in 11.2 ounce bottles and 1/6 bbl kegs.
Grand Teton Brewing was founded in 1988 as the first modern craft brewery in Wyoming. Their premium handcrafted beers include the 15x Gold Medal Winning Bitch Creek American Brown Ale; 2014 Great American Beer Festival Silver Medal Winner 208 Session Ale; 2009 Great American Beer Festival Gold Medal Winner Sweetgrass APA; and, favorites of the Yellowstone and Grand Teton National Parks Old Faithful Ale and Teton Amber. From their production facility in Victor, Idaho, Grand Teton Brewing beers are handcrafted from only the finest ingredients, including locally grown grains, Idaho grown hops and pure Teton Mountain spring water. Discriminating beer drinkers can find their favorite Grand Teton Brewing brews on tap and in bottles throughout California, Colorado, Idaho, northern Illinois, Kansas, Minnesota, Montana, Nevada, North Dakota, North Carolina, South Carolina, South Dakota, Washington, and Wyoming.
www.GrandTetonBrewing.com – @GrandTetonBrew – Facebook