GoodLife Brewing 2018 Release Calendar Is Loaded with New Additions
(BEND, OR) – A new year, brings new goals and new beers. 2017 was definitely the hardest year yet for GoodLife Brewing with the loss of Curt Plants, but we know he'll be proud of what we have coming out for you in 2018. We've revamped a few things for this year and we're excited to announce that we will be adding more packaged beer for 2018.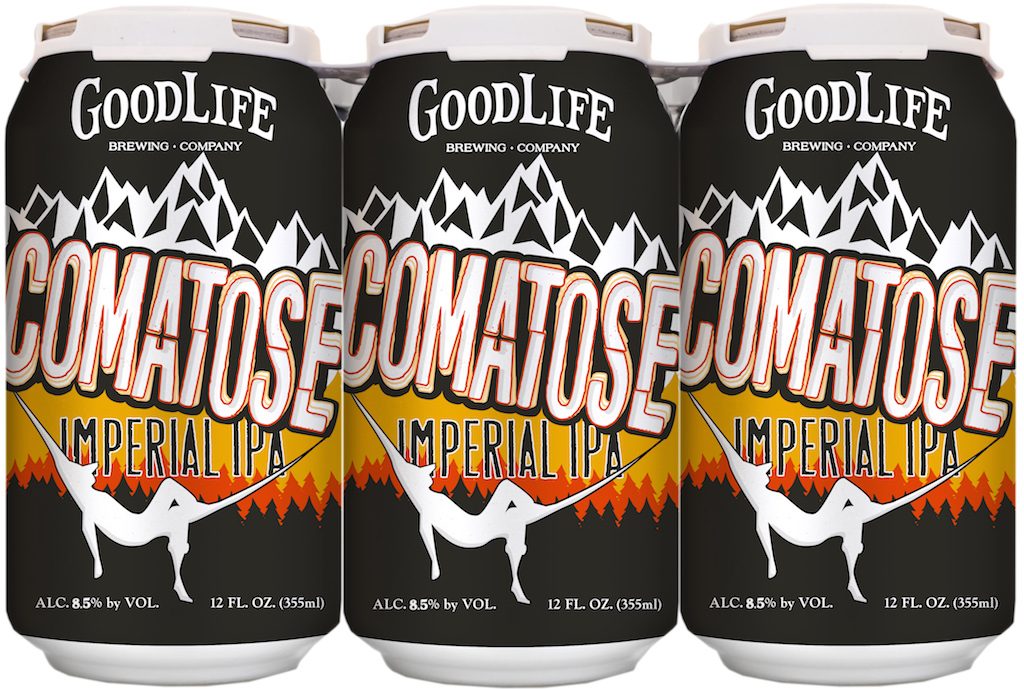 One of the new additions for 2018 is the introduction of the HighCamp Bottle Series, which will feature both year-round and seasonal offerings in 500ml bottles. We are going to continue  bottling Comatose Imperial IPA and will be adding Pass Stout and Evil Sister Double IPA to the year-round bottling lineup starting in April. Evil Sister Double IPA has been a long time favorite of our employees but we've only been able to brew it once a year for the last 4 years due to tank space and needing more ingredients for it.  We made sure to procure enough ingredients so that we'll be able to share it all year with you.  The seasonal HighCamp Bottle's will be: RedSide India Red Ale available April-July, 29'er Brown Ale available August-November, and Puffy Coat Porter available December-March.
Adding to our year-round arsenal of cans that used to be called our Flagship Series, which is now dubbed the TrailHead Can Series, Comatose Imperial IPA will be the newest edition. Comatose will be available year-round in a 12oz 6 pack, which will be one of the highlights of the year for us. We've done away with Tie One On Session ale but will continue canning Wildland Session Ale in the summer and Mountain Rescue Session Ale in the winter.
When asked about 2018, GoodLife Brewing's Owner Ty Barnett said "2018 looks to be a breakout year for us here at GoodLife Brewing. After a hard year with the loss of Co-Owner and Brew Master Curt Plants, we have been working hard to build a great team, along with some restructuring in the company. We have a plan to grow 15%-20% this year, which is being helped in part by interest after our GABF Gold Medal for Sweet As! We have begun opening up additional distribution in California and Chicago with other markets in planning for this year. We also are launching our newest six pack can, the long anticipated Comatose Imperial IPA will be available in 6 packs starting in March. Our loyal fans have been asking for years when we are going to can Comatose. Well the wait is finally over. Look for Comatose to hit shelves Oregon wide this spring!"
About GoodLife Brewing Company
As brewers of hand crafted ales, we are outdoor enthusiasts who look forward to sharing our craft beers that are most balanced and of the highest quality. GoodLife Brewing Company has been making award-winning beers since 2011 in its home of Bend, Oregon. GoodLife's "Adventurous Ales" are Descender IPA, Sweet As! Pacific Ale, Comatose Imperial IPA and a selection of seasonal beers. In addition to making beer, GoodLife enjoys giving back to the community by supporting many local and national non-profit organizations. Play hard, live easy and enjoy GoodBeer for GoodLife! For more information, visit www.goodlifebrewing.com, or find us on Instagram, Facebook and Twitter at @GoodLifeBrewing.