Get Out Your Glasses – Lukcy Basartd Ale Returns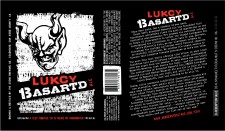 Get out your glasses, not your beer glasses, but your reading glasses rather as we've been tipped off that Stone's Lukcy Basartd Ale is returning.  If you recall, Stone released a very special blend of Double Bastard Ale, Arrogant Bastard Ale with a touch of OAKED Arrogant Bastard Ale to create a dangerously drinkable strong ale.
It was tee'd up to the public as one time release, but at the same time we heard "never say never" regarding an eventual return.
We've been told that Lukcy Basartd Ale will be returning in the next few weeks.  We are in the midst of finding out what markets this will show up.