The Garden State Brewers Guild Announces New Executive Director
(Cape May, NJ) — The Garden State Craft Brewers Guild — representing its small breweries and affiliated groups to support industry-wide growth and beer appreciation — is pleased to welcome Jason Carty, the organization's new Executive Director into the fold. Beginning November 14th, Jason Carty's experience, leadership, and love of craft beer makes him a perfect fit for the role.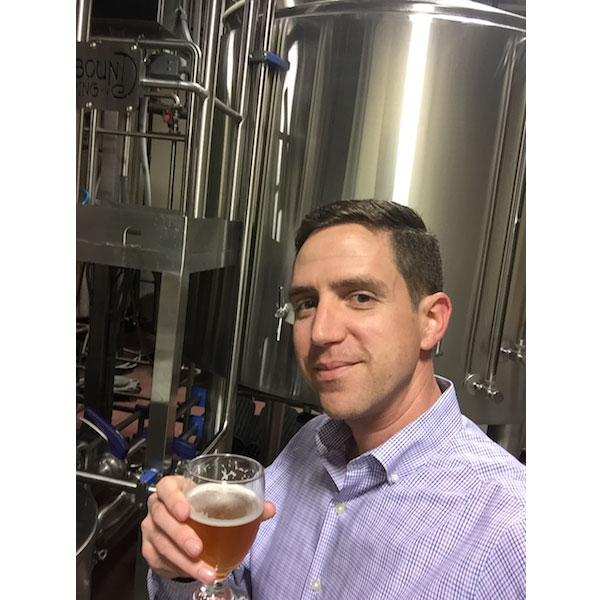 The Guild set out to find a replacement when Don Russell (aka Joe Sixpack) departed the organization this past July.
"We've spent a few months searching for the right person for the job," says Guild president Ryan Krill, "and we couldn't have done better. Jason Carty has the background, the gusto, and — most importantly — the innate appreciation of craft beer necessary to elevate the Garden State Craft Brewers Guild and New Jersey's craft beer industry throughout the country. We can't wait to put him to work."
Throughout his professional life, Jason Carty has had a history of following his heart. For example, after several years as a corrections officer, he took a significant pay cut to become a career firefighter. "It was what I wanted to do," he says. "I saw the opportunity to work in a field that I'm interested in and that I enjoy. So, why not? It's a big bonus to do something that you love with people that you like and to be able to help people."
Carty's vast experience in fundraising, public service, and legislation is what attracted him to the Guild. His leadership background — including nine years as Fire Commissioner in Mount Holly, a term as Fire Chief in Mount Holly and a past Vice President of the Firefighters Union — made the decision all that much easier.
His unique skill set is a great fit for the organization. His experience with unions of various sizes — dealing with labor issues, grievances, and contract negotiations — will be invaluable to the Guild. Carty's background in fundraising and running charitable events — including a St. Patrick's Day 5K to raise funds for local recreation programs in Mount Holly — will assist the non-profit organization in reaching their financial goals. Through his work with political campaigns and consulting, he's built a network of lawmakers at all levels of government that will serve the Guild well with their legislative agenda.
Jason Jones, Mayor of Mount Holly, says, "Jason Carty was instrumental in Mount Holly Township becoming one of the first towns to host a craft brewery, Village Idiot. He called me the day the legislation [easing restrictions on microbreweries] passed in 2012, and worked tirelessly to ensure the township was doing everything we could to welcome breweries." Thanks in part to Carty's perseverance, the small township — his hometown — is now experiencing an economic resurgence thanks to the two award-winning breweries — Village Idiot and Spellbound — that now do business there.
Furthermore, Carty is a people person. His effusive nature and innate perspicacity is a perfect complement to New Jersey's craft beer scene. With his experience in marketing and public relations, he's looking forward to helping the Guild to make a name for itself.
"I'm looking forward to assisting every member of the Guild — regardless of how small or large the brewery," he says. "From legislative issues, promotional issues, listening to their concerns and needs, and learning how the Guild can help them, I'm committed to working together to achieve our common goals."
Carty has visited over 100 breweries throughout the world — including a handful on an impromptu weekend trip to Belgium.
"I'm a big fan of the craft beer movement in New Jersey," Carty says. "It's some of the best beer around. I've been to a lot of breweries near and far, and New Jersey is really putting out a superior product. It's tough not to be biased, but at the end of the day, the product speaks for itself. I've been to over thirty breweries in the state — from the small mom-and-pop shops to the larger ones — and they're all producing great beer. The medals from the Great American Beer Festival that we've brought home to New Jersey speak for themselves. It's in our backyard — buy local, shop local — it's a great product, it's a great industry, it's a great group of people."
ABOUT:
The Garden State Craft Brewers Guild is the voice of craft beer in New Jersey, representing its small breweries and affiliated groups to support industry-wide growth and beer appreciation. We are Jersey Fresh Beer!