Full Sail's New Session EZ IPA is Everything You Always Wanted in an IPA
(Hood River, OR) – Full Sail Brewing Co. today announced the release of Session EZ IPA, the newest member of the Session family of beers. It's everything you always wanted in an IPA, only less. Wait. Less? You got that right. It's an unfiltered IPA with all the aromatic hops, fruit notes and citrus vibe that you and your taste buds desire – minus the mouth-puckering bitterness or the high-octane ABV. After all, it's not called EZ for nothing.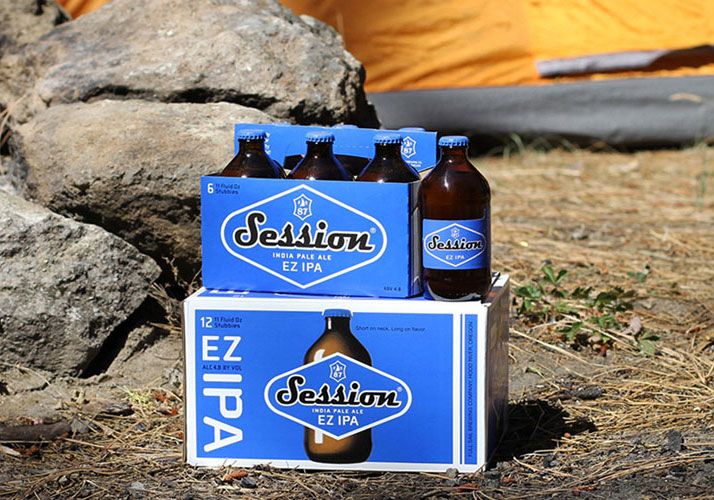 "Our IPAs are always well received, but we're not ones to rest on our laurels, or on our hops for that matter," says Full Sail Brewmaster Jim Kelter. "New Session EZ IPA is a well-balanced, easy-drinking beer that's not bitter, while fully packed with tropical and citrus aromas."
When Full Sail launched the Session brand 12 years ago, it quickly became the hottest new craft-beer brand on the market, which has since brought home over 100 medals, including 58 golds. Session's not a micro, a macro, or an import, but in a way it's a little bit of each. You see, virtually everyone who likes beer likes Session. It's a brand that's accessible without being ordinary. Totally drinkable, but never at the expense of character. Drinking shouldn't be hard. We've made it EZ. Session EZ IPA is available year-round on draft and in 6-packs and 12-packs. 4.8% ABV, 35 IBUs.
About Full Sail Brewing Company
Perched on a bluff in Hood River, Oregon, overlooking the mighty Columbia River's epic wind and kite surfing and the snow-capped volcanic peak of Mt. Hood, Full Sail is a true craft-brewing pioneer. Since 1987, Full Sail has been pouring pure Mt. Hood water, local ingredients and responsible processes into each and every pint. Full Sail's brews and sustainable practices have garnered more than 300 national and international awards, including more than 200 gold medals and Beverage World's "Craft Brewer of the Year" distinction. From Full Sail Amber and IPA to Session Lager and bourbon barrel-aged beers, Full Sail consistently strives to brew complex, balanced and ridiculously tasty beers.
www.fullsailbrewing.com – @FullSailBrewing – Facebook