Full Sail Releases Black Gold Bourbon Barrel Aged Imperial Stout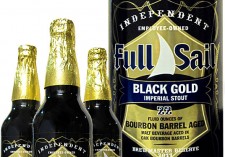 Hood River, Or – For the past year bourbon barrels and time have been working their magic together deep in the cellar at the Full Sail Brewery.
There are absolutely no shortcuts with this beer, as it all has been aging in rich bourbon barrels for twelve months.
A 100% commitment to excellence results in a truly special beer – complex, elegant and supremely balanced. Now we're finally able to taste the delicious results as the Full Sail crew releases Black Gold Bourbon Barrel Aged Imperial Stout 2011.
According to Jamie Emmerson, Full Sail's Executive Brewmaster, the Imperial Stout was racked into 18 and 20 year old casks from Schenley Distillery back in January 2010. "This extended aging presents hints of vanilla and allows the Stout to pick up the flavors of the wood, bourbon and oak. The aging combined with the robust character of the Imperial Stout make for an extraordinary and wonderful taste experience. It has a strong roasted malt character and a full body.  Chocolate and caramel nuances blend with the hops for a smooth Imperial Stout," described Emmerson.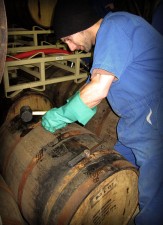 "Wood barrel aging is an art form. When done right, it's a wonderful thing. Our barrel aged beers have been a Full Sail tradition since 1998 when we joyfully discovered what happens when you pair vintage barrels, dedication, and patience.  Every year since, we've brewed an imperial style dark ale, filled roughly sixty oak bourbon barrel casks, and then aged them in our cellar for a year. We rack this special beer in small batches, available in only very limited quantities. It cellars well, so if you store a few bottles in a dark, cool place and be patient, you will be rewarded for your effort and restraint. You should get some while you can," added Emmerson. To help the beer aficionados that have the self-discipline to cellar this beer, Full Sail marks the bottle label with the reserve year. Black Gold will be available in 22 oz bottles and on draught. (ABV 11.4%, IBU 37.5)
Full Sail is planning two special events to celebrate the release of Black Gold. The brewery will be offering a vertical tasting of three versions of Black Gold to highlight the flavor components of this special brew. "Since Black Gold is a blend of our Imperial Stout aged for a full year in both 18 and 20 year old bourbon barrels, we thought it would be interesting to try a bit of each before blending. We kegged off a very small stash from each vintage for the initial release. Join us to celebrate the unveiling of this very special beer and taste the nuances between the two vintage years and the final version," added Emmerson. The special tastings will take place simultaneously at Full Sail's Tasting Room and Pub in Hood River and at their Riverplace Brewery in Portland at 5 p.m. on Tuesday, February 1st. For more information call the Full Sail Riverplace brewery at 503-222-5343 or the Full Sail Tasting Room and Pub at 541-386-2247.
In the February issue of Men's Journal, Black Gold was named one of "the best" barrel aged beers in the US. Previously Black Gold was awarded a silver medal at the 2009 World Beer Championships and at the 2006 Great American Beer Festival® (wood-aged strong beer category).