Full Sail Brewing Releases Grandsun of Spot IPA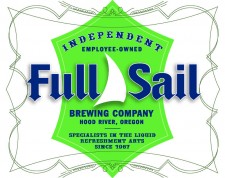 FULL SAIL BREWING COMPANY RELEASES SUMMER BREWMASTER RESERVE GRANDSUN OF SPOT IPA
Hood River, Or – Full Sail Brewing Company is proud to announce the release of their newest summer "sun" series Brewmaster Reserve beer, Grandsun of Spot IPA.  Named to celebrate the season, Full Sail's summer "sun" series began with Sunspot back in 2001. Over the years the brewery has had some fun with the evolution of the beer and the name. First it was Sunspot, then Son of Spot, Prodigal Sun and this year it's called the Grandsun of Spot.

According to Full Sail Brewmaster, John Harris, each summer Full Sail brews an aggressive IPA style for this series using a similar malt bill and explores a different hop combination depending on what was available at harvest. This year the brewery chose Columbus and Zeus hops that accentuate a malt blend featuring Munich and Honey malts for a full malt flavor. Always hopped in excess of 80 IBU, this year's offering comes in around 100 IBU.  "It's a pleasure to drink for hop lovers," added Harris.  ABV: 6%
"Grandsun of Spot is part of our rotating selection of Brewmaster Reserve beers. Every ten weeks we come out with a different beer that show cases the brewer's art.  We began the program back in 1998 as a way of celebrating our independence and creativity," said Full Sail's Founder and CEO, Irene Firmat.
Grandsun of Spot will be available in 22oz bottles and on draught in specialty beer stores and pubs throughout the Pacific Northwest from Mid-June until September. Full Sail will follow-up Grandsun of Spot with Vesuvius Belgian Style Golden Ale in September. Full Sail will feature Grandsun of Spot at the Blues, Brews and BBQ's event June 27, 2009, on the banks of the Columbia River at Teo Park in Stevenson, Washington. http://www.cityofstevenson.com/brews/
For a full list of Full Sail's Brewmaster Reserve 2009 line visit http://www.fullsailbrewing.com/FullSailBrewmasterCalendar.pdf
The independent and employee-owned Full Sail Brewery is perched on a bluff in Hood River, Oregon, overlooking the most epic wind and kite surfing spot in the world. At this very moment 47 specialists in the liquid refreshment arts are crafting barley and hops into your next beer. Founded in 1987, the Full Sail crew has been fermenting godlike nectar for 21 years. Full Sail is committed to brewing great beer while adhering to socially and environmentally sustainable practices. Full Sail recently named one of the "100 Best Green Companies to Work for in Oregon," by Oregon Business magazine, received the "Businesses for an Environmentally Sustainable Tomorrow Award (BEST)" from the City of Portland Office of Sustainable Development, the "Governor's Award for Sustainability from the State of Oregon, the State of Oregon recognized Full Sail Brewing with Sustainable Tourism award for their leadership, stewardship and social responsibility. Their award winning brews are now available in nineteen states. The Full Sail Tasting Room and Pub is open seven days a week. Swing by for a pint, grab a bite, tour the brewery, or just soak up the view. www.fullsailbrewing.com