Full Sail Brewing Named "Craft Brewer of the Year" By Beverage World Magazine
Hood River, OR – Full Sail Brewing has been named "Craft Brewer of the Year" by Beverage World Magazine for their 26 years of "sustainable stewardship, quality, consistency and operational ingenuity." More than a quarter century after its founding, Full Sail's beers continue to garner acclaim on worldwide stage, having collected more than 300 awards, including 130 Gold medals.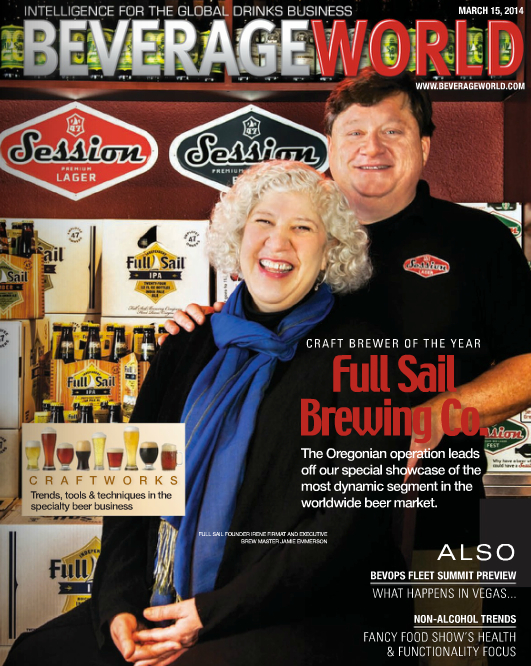 "It's a great honor to receive this recognition from Beverage World," said Irene Firmat, Full Sail's Founder and CEO.  "When we founded Full Sail in 1987 there were only a handful of small breweries in the country and we were fortunate to be one of those early, pioneering brewers.  We were inspired by the idea of bringing a fresh perspective to American beer culture by emphasizing complexity, creativity, and sophistication. We believe that one of life's greatest joys is in celebrating moments big and small with friends, family, good food, and of course, good beer. The craft beer industry has grown and changed tremendously over these 26 years, as there are now over 3,000 breweries nationwide. Within this intensely competitive framework, we are thrilled that Full Sail has been named Craft Brewer of the Year. It is with a sense of pride and deep appreciation that we acknowledge this accolade from Beverage World."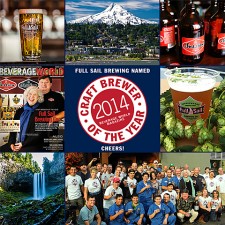 "Our focus and vision for our brewery has always been to provide world class, elegant beers with impeccable, consistent quality. Over the years, the hundreds of medals we have received in national and international awards reflect this dedication. As the first brewery in the small community of Hood River, Oregon, we understood the impact we have to both our community and our environment.  To be named Craft Brewer of the Year means that not only do we take brewing seriously, but also our responsibility to our employee-owners, our community, and the beauty of our environment.  This award is indeed one of life's moments worth celebrating. Cheers to Beverage World and all our beer fans and friends for your ongoing support all these years," added Firmat.
About Full Sail Brewing Company:
Founded in 1987, the independent and employee-owned Full Sail Brewery is perched on a bluff in Hood River, Oregon, overlooking the most epic wind and kite surfing spot in the world. Over the last 26 years, Full Sail has collected more than 300 national and international awards for their beers and sustainable practices, including 130 Gold medals. Among the company's most popular brews are Full Sail Amber, IPA, Limited Lager Series, Pub Ale Series, Session Premium, Session Black, and Session Fest lagers. At this very moment their specialists in the liquid refreshment arts are crafting barley and hops into your next beer.  The Full Sail Brew Pub is open seven days a week. Swing by for a pint, grab a bite, tour the brewery, or just soak up the view.
www.fullsailbrewing.com – @FullSailBrewing – Facebook