Founders KBS Returns March 15th, 2012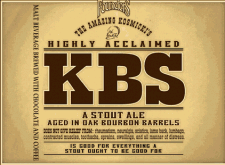 KBS on a bourbon barrel in the caves beneath Grand Rapids, where our barrel-aged beers are cellared.
The Ides of March is infamous for being the day Julius Caesar was killed in 44 B.C. But there's no reason to "beware the Ides of March" if you're a beer enthusiast–other than to mark it on your calendar as the day that our Kentucky Breakfast Stout (KBS) is released.
To clarify, KBS will be released on Thursday, March 15, across our distribution footprint. Cases will be for sale at our taproom TOMORROW, March 10, beginning when we open at 11am. KBS will be on tap all day in our taproom, and there will be a killer rock show tomorrow night featuring the Total Blam Blams and Love Fossil, which are comprised of no less than six brewery staffers (read: the people that make the beer you'll be drinking).
KBS is a sipper at 11.2% ABV and has a strong hop character with 70 IBUs. Here's how we describe it:
What we've got here is an imperial stout brewed with a massive amount of coffee and chocolates, then cave-aged in oak bourbon barrels for an entire year to make sure wonderful bourbon undertones come through in the finish. Makes your taste buds squeal with delight.
Read more about the taproom release party here. And check out our event page for release parties in your area.