Fort Collins Brewery Releases New 4-pack Seasonal, Farm Dog, Farmhouse Ale
(Fort Collins, CO) – FCB (Fort Collins Brewery) is pawsitively excited to introduce woman and man's new best friend, Farm Dog, Farmhouse Ale, releasing August 2015.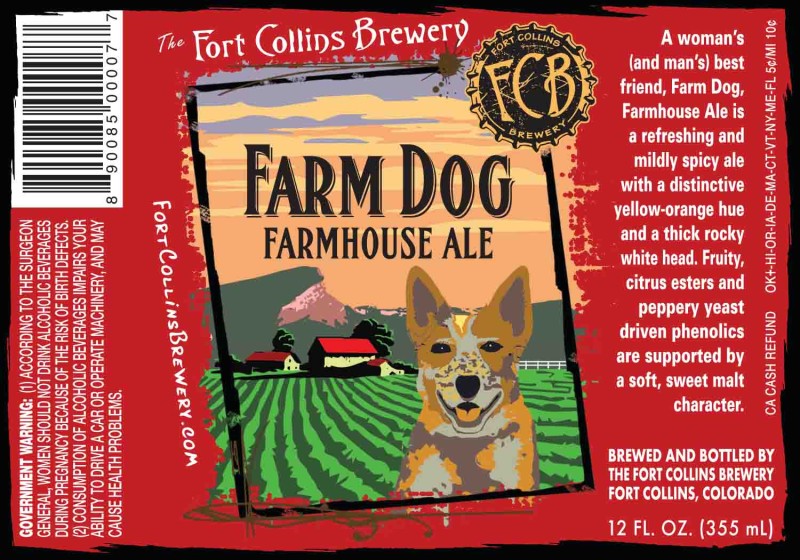 Farm Dog is a refreshing and mildly spicy ale with a distinctive yellow-orange hue and a thick rocky white head. Fruity, citrus esters and peppery yeast are supported by a soft, sweet malt character.
"When we designed Farm Dog, we wanted to pay tribute to the Farmhouse Style and the harvest season by creating a medium-bodied brew with a distinct fall color and a dry, slight spice finish," said Thomas Barnett, FCB's Operations Manager. "Higher in ABV, our intent is to savor Farm Dog while taking in the autumn sunset and playing catch with a fury friend."
At 7 percent ABV, Farm Dog is available in 4-packs and on draft to FCB's distribution footprint throughout the fall season. To find the closest Farm Dog near you, use FCB's Beer Finder at fortcollinsbrewery.com/beer-finder/.
Barley, the cattle dog characterized on the Farm Dog label, is FCB's Co-Owner, Tina Peters', rescue dog. FCB has released customized Farm Dog bandanas where $1 from every bandana sold is donated directly to New Hope Cattle Dog Rescue of Colorado. To purchase, shop online at fortcollinsbrewery.com/shop.
Fort Collins Brewery & Tavern is a family-owned, handcrafted microbrewery and full service tavern in Northern Colorado, established in 2003. FCB offers an outstanding line up of 50 ales and lagers that can be found on tap as well as in bottles throughout the U.S.
www.fortcollinsbrewery.com – @FortCollinsBrew – Facebook