Fordham Rosie Parks Oyster Stout, Now with Avery's Peals Oysters
(Dover, DE)– Fordham Brewing Company and Ryleigh's Oyster Food & Spirits have recently partnered to enhance Fordham's Rosie Parks Oyster Stout with the inclusion of Avery's Pearls oyster shells to its brew. Avery's Pearls is a proprietary oyster variety from Ryleigh's owner Brian McComas and farm-raised in Hog Island Bay, Virginia.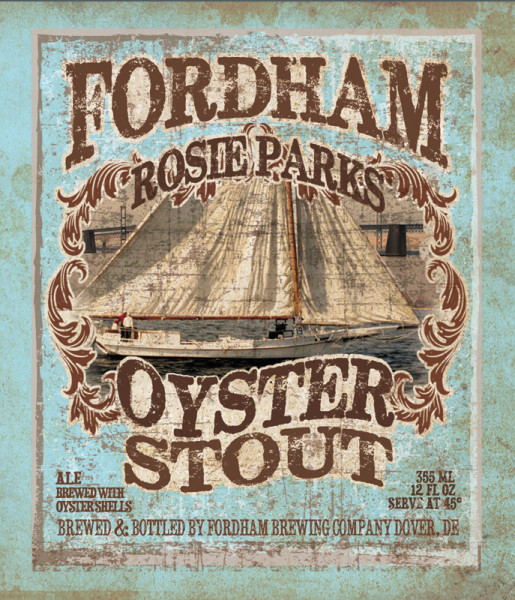 "Brewing an Oyster Stout is a rite of passage in the Mid-Atlantic, especially considering the rich maritime culture of the region and how oysters are a part of the ecosystem and local economy" said Fordham VP of Sales Casey Hollingsworth. "Partnering with Ryleigh's to provide such a distinctive and unique product that embodies the spirit of the Chesapeake Bay region is a privilege for everyone involved."
Rosie Parks is a dry stout brewed with oysters shells and has hints of dark roasted malt, cocoa, and chocolate. Hopped with both Bravo and Glacier hops, it is designed specifically to pair well with oysters and its complimentary fare alike.
This year's batch of Rosie Parks will be served on-tap at all three Ryleigh's locations in Federal Hill, Hunt Valley, and Mount Vernon. Enthusiasts will also be able to purchase Rosie Parks in six-packs and on draft in select Maryland, Delaware, and Virginia locations for a limited time.
Fordham is hosting a Rosie Parks release party on Friday, September 4th from 5-8PM at its headquarters in Dover, Delaware. The stout has been made in partnership with the Chesapeake Bay Maritime Museum since 2012, which honors the museum's restoration of the famed oystering vessel. A portion of its sales will be donated to the museum to help fund efforts to preserve and explore the history, environment and people of the Chesapeake Bay.
###
Based on shared values and a common philosophy of quality brewing, Fordham Brewing & Dominion Brewing joined forces in 2007 and consolidated operations in 2009. The First State is now home to the Fordham & Dominion Brewing Co., where beer lovers from near and far are able to stop by, get to know us, and enjoy our handcrafted beer and soda. Our roots run deep throughout the Mid-Atlantic region and we remain dedicated to our craft. Throughout our history, we have always believed in two things: the beer we make and the people who drink it. For more information, visit fordhamanddominion.com.