Flying Saucer Draught Emporium teams up with Pints for Prostates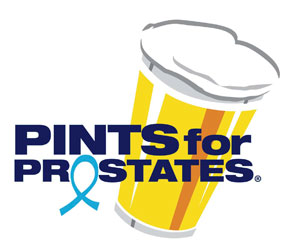 (Dallas, TX) – For the sixth year, Flying Saucer Draught Emporium is teaming up with Pints for Prostates Inc. for a promotion designed to reach men through the universal language of beer. The 16-location craft-beer pub will generate prostate cancer awareness from May 1 to 31 that will culminate in a drawing for a beer trip for two to the Great British Beer Festival.
"This is the sixth year we are teaming up with Pints for Prostates for what has become a tradition of sending one of our 'Beerknurds' and a friend on the beer trip of a lifetime," said Keith Schlabs, beer guru and co-founder of Flying Saucer. "We're excited to continue to support a great cause with this companywide awareness celebration about a disease that has touched so many of our friends and customers."
Flying Saucer will raise funds throughout the month to support the Pints for Prostates awareness mission. Last year, Flying Saucer set the fundraising record for largest donation from a private company, raising $30,000 between all locations across the country. To date, the family of pubs has donated over $130,000 to the cause. This year, the Saucer aims to raise $35,000 between all locations.
During the month of May, Flying Saucer customers can purchase raffle tickets at any of the 16 locations. Tickets are $10 each, $25 for three or $50 for seven. Each Flying Saucer also will host beer-themed events all month to help raise money.
The special Pints for Prostates English beer tour is organized by BeerTrips.com and will take place Aug. 3 to 13, 2017. The trip features stops in York, the Cotswolds and London for the Great British Beer Festival. The winners will receive:
Round-trip airfare for two from the continental United States
Nine nights' lodging
Tours of famous breweries
Escorted pub crawls
Guided city tours
Breakfast daily
Four beer dinners
Three beer lunches
Train and private coach transportation.
The total value of the trip for two is estimated at $9,200. The drawing will be held June 11 at Flying Saucer's Charlotte, North Carolina, location. The prize is non-transferable and no cash substitute will be offered. The winner and guest are responsible for obtaining passports and all trip-related costs not outlined above. Participants must be 21 years old to enter. No purchase is necessary.
"Flying Saucer Draught Emporium's support is critical to our cause because they enable us reach thousands of men with a life-saving message about the importance of early detection," said Rick Lyke, a beer journalist who had successful prostate cancer surgery in 2008. "BeerTrips.com has put together an amazing itinerary that will put any beer lover in heaven. This is the beer trip of a lifetime, and it is for a great cause."
Since 1998, BeerTrips.com has provided unique beer travel experiences to destinations around the world since, and this is the seventh time the company has teamed with Pints for Prostates. Spots are available on the special Pints for Prostates group tour to Europe on a limited basis for $3,395 per person (plus airfare) based on double-occupancy hotel rooms. Single room requests can be accommodated for an additional $735.
"Men are 33 percent more likely to develop prostate cancer than women are to have breast cancer, yet few men know about the critical importance of early detection," Lyke said. "Flying Saucer's support helps us reach an audience that needs to hear our message."
About Pints for Prostates
Pints for Prostates reaches men through the universal language of beer to encourage them to take charge of their health. Prostate cancer survivor and beer writer Rick Lyke founded the group in 2008. The grassroots effort raises awareness among men about the importance of regular health screenings and PSA testing by making appearances at beer festivals, social networking and pro bono advertising. According to the National Cancer Institute, approximately 240,000 new prostate cancer cases are diagnosed annually in the U.S.
www.pintsforprostates.org – @Pints4Prostates – Facebook
About BeerTrips.com
Beer Trips.com was founded in 1998 to offer serious beer people the opportunity to travel to the world's best beer destinations with other people who love great beer. Beer and travel, travel and beer — these are two of our favorite things. Both, in our estimation, are worth a fair amount of life's energy. Our goal, and our very reason for existing, is to take our travelers the best beer destinations, drink, taste and enjoy the best beers, meet the beer-loving people of the countries we visit, and explore the history, culture, art and architecture of the interesting places where beer "grew up". To do this we stay in nice, well-located hotels, eat at great restaurants that emphasize beer in their fare, and visit breweries, brew pubs, cafes, and museums that enhance our understanding and appreciation of beer and its rich history and culture. www.beertrips.com.
About Flying Saucer Draught Emporium
Flying Saucer has been a pioneer on the craft beer scene since we opened the doors of our original location in
Fort Worth, Texas, in 1995. Our family-owned beer joint has 16 locations throughout Texas, Arkansas, Tennessee, North Carolina, South Carolina and Missouri. Flying Saucer offers more than 250 beers with a full spectrum of brewing styles handpicked for each unique market. We do not franchise because we want it done right. Learn more at www.beerknurd.com.