Flying Dog Beer Available At Oriole Park & Nationals Park This Season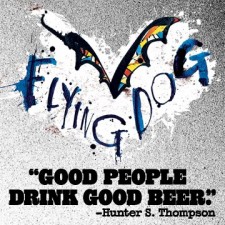 Frederick, MD – The Baltimore Orioles and Washington Nationals are taking their local brewery out to the ballgame. Beer from Flying Dog Brewery will be available at both ballparks all season long.
In Oriole Park at Camden Yards, a variety of styles will be sold at over 20 locations, including the Flying Dog storefront and The Roof Deck, which opened last season. At Nationals Park, Flying Dog's Belgian-Style IPA, UnderDog Atlantic Lager, and Snake Dog IPA will be sold in the general concession areas, the Red Loft Bar, and the Red Porch Bar.
"Craft beer in Maryland continues to boom and it's incredible to see both teams support their local brewery," Ben Savage, VP of Marketing for Flying Dog, said.
Flying Dog and the Orioles are also continuing the popular Firkin Friday program, where cask-conditioned beer is sold at both the Flying Dog storefront (lower level, between sections 23 and 29) and The Roof Deck at every Friday home game.
The first Firkin Friday is Opening Day – Friday, April 5 – featuring the limited-release Single Hop Imperial IPA with Citra.
"Last year, Oriole Park was the first ballpark in the country to feature cask-conditioned beer," Savage said. "The organization's willingness to forge a new path for craft beer and sports partnerships is truly remarkable."
The full Firkin Friday schedule at Oriole Park is as follows:
April 19: Belgian-Style IPA with mango and habanero
May 17: Brewhouse Rarities Easy IPA
May 31: Snake Dog IPA with experimental hop blend
June 14: Brewhouse Rarities Pineapple Saison
June 28: Belgian-Style IPA
July 12: Single Hop Imperial IPA with Sorachi Ace
July 26: Brewhouse Rarities Belgian Devil
August 2: Pale Ale with experimental hop blend
August 16: Snake Dog IPA with experimental hop blend
August 23: Belgian-Style IPA with mango and habanero
September 6: Secret Stash Harvest Ale
September 27: The Fear Imperial Pumpkin Ale
About Flying Dog Brewery:
Located in Frederick, MD, Flying Dog is Maryland's largest brewery. As its tagline proclaims, Flying Dog is committed to producing world-class craft beer and continues to push the envelope with experimental and limited-edition releases. For more information, please visit www.flyingdogbrewery.com – @flyingdog – facebook