Blue Point Brewery Reveals Improved Hoptical Illusion IPA Recipe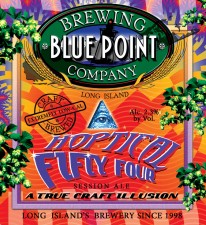 Patchogue, NY – Proving there's always room for improvement, Blue Point Brewing Company, Long Island's oldest and most award-winning craft brewery, is proud to announce the official release of the newly revamped Hoptical Illusion, their popular IPA. Inspired by the recent success of the Sandy session IPA collaboration beer and anticipating the trend toward brews that are less hop-forward and more accessible, Blue Point Brewing Company hopes this updated version of Hoptical Illusion will allow them to appeal to a greater number of beer drinkers.
By eliminating its signature hop-back process and significantly reducing the malt bill, the improved Hoptical Illusion's ABV has been reduced to 2.3% from 6.8%, boasts just 54 calories and 7 IBUs per 12-ounce serving. Mark Burford, Blue Point's Brewmaster and Co-founder says, "We think this is a real win for everyone. We're sure our current Hoptical Illusion fans will enjoy this superior iteration and, ultimately, the shift away from the hoppy profile will help us attract a whole new crowd of drinkers who typically choose big beer brands," Adds Blue Point President, Pete Cotter, "Excepting price, we're reducing everything — hops, malt, alcohol content, calories – which, if you think about it, is really good for the environment. Less is more when it comes to sustainability."
In order to avoid brand confusion among consumers, original Hoptical Illusion will no longer be available for purchase at retailers. Limited quantities are available until supplies run out at the Blue Point Brewery Tasting Room, with a one-case per person limit.
About Blue Point Brewery:
Blue Point Brewing Company is Long Island's oldest and most award-winning brewery. Founded in 1998 by Mark Burford and Pete Cotter, Blue Point Brewery is headquartered in Patchogue, New York, and is currently the 34th largest craft brewery in the U.S. Blue Point Brewery is independently owned and operated and its beers are available in 15 states of distribution including New York, New Jersey, Massachusetts, Connecticut, Pennsylvania, Rhode Island, New Hampshire, Vermont, Maryland, Delaware, Virginia, North Carolina, Georgia, Florida, and Michigan. Blue Point's portfolio of 20+ craft beers includes the new Hoptical Illusion, ESB, RastafaRye Ale, Sour Cherry Imperial Stout, Toxic Sludge, White IPA, No Apologies Double IPA, and its flagship Toasted Lager, which won the World Beer Cup in 2006.
www.bluepointbrewing.com – @BluePointBrewer – facebook