First Ever Bottle Release From Third Rail Beer
Manhattan, NY – Third Rail Beer's next new beer, Alternate Side, a chili pepper-infused Imperial Stout expected to check in at 9.3%, is sitting in the fermentor as we speak, and should be ready for an early February debut! In addition to a limited number of kegs, this beer will be our very first bottle release, in 22-oz bombers.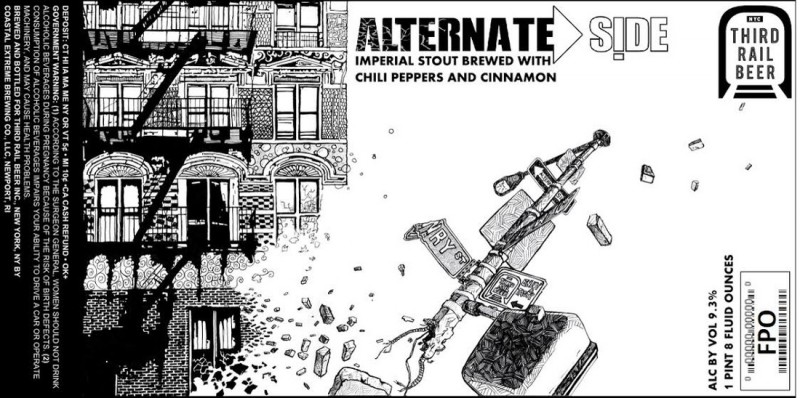 Brewmaster Loren Taylor-Raymond says "Alternate Side is a bold Imperial Stout brewed with a blend of specialty dark malts that deliver a full body and rich flavors of strong coffee, dark caramel, and spicy rye. As those flavors fade the smoke and warmth of aging on Guajillo and Chipotle peppers and Mexican Cinnamon reveal another side to this complex beer."
About Third Rail Beer
Third Rail Beer is a New York City-based craft brewery, driven by a passion for the endless pursuit of quality, honoring brewing heritage, and pride in the culture and community of New York. We brew our beer using our recipes, techniques, and favorite ingredients on equipment lent to us by our brewery friends.
Third Rail beers offer sensory experiences that spark memorable moments and robust conversations, showcasing the wealth of variety and personality that comes from four simple ingredients.
www.thirdrailbeer.com – @ThirdRailBeer – facebook