Firestone Walker Changes Vintage Format, Adds Bravo
(Paso Robles, CA) – For the first time since its brewing inception more than a dozen years ago, Firestone Walker's "Bravo" imperial brown ale is finally finding its way into the bottle, with a limited release set for early February across all Firestone Walker markets.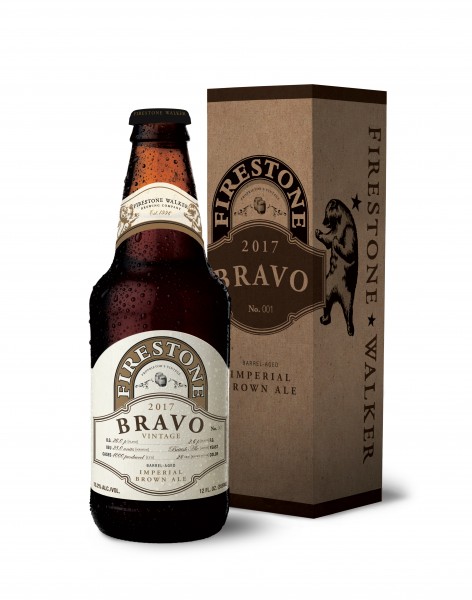 Along the way, Bravo ($9.99) launches the transition of all Firestone Walker Vintage Reserve barrel-aged beers from 22-ounce bombers to individually boxed 12-ounce bottles in 2017, to include longtime stalwarts such as Parabola and the annual Anniversary Ale.
Bravo: Back to The Future
Bravo was the first beer matured in retired spirits barrels by Brewmaster Matt Brynildson in late 2004, during the experimental stages of what would become Firestone Walker's inaugural Anniversary Ale.
From day one, Bravo has epitomized Firestone Walker's approach to barrel-aged beers. "At the time, most barrel-aged beers veered toward the sweeter side," Brynildson said. "We wanted to make something more dry and lean that would really allow the true bourbon barrel character to pop."
Bravo has remained one of the driest beers in Firestone Walker's Vintage Reserve series of barrel-aged beers, and since day one has been considered a vital component in the annual blending of the Anniversary Ale, balancing out some of the stickier components.
"Coming out of stainless steel, Bravo is pretty bracing," Brynildson said. "But when it goes into the barrel, it really mellows out, and the barrel character comes to the forefront."
Another signature of Bravo is a lively malt quality that is maintained through Firestone Walker's cold-storage of its barrel-aged beers. "It has this malt character that is surprisingly fresh," he said. "There's a ton of barrel character, and a lot of toffee and caramel. It has the flavor of things sweet, but without being cloying or oxidative."
The Upside of Downsizing
Henceforth, all beers from Firestone Walker's Vintage Reserve line of barrel aged beers will be bottled in the 12-ounce format, although total production of each beer remains the same.
"We've been thinking about doing this for a while now," Brynildson said. "It's something that a lot of people have been clamoring for, and we decided to finally pull the trigger."
Brynildson noted that the primary benefit is the ability to enjoy a high-gravity, barrel-aged beer without committing to consuming a full 22-ounce bottle.
"With beers like this, a 12-ounce bottle is perfect for two reasonable servings," he said.
He added, "The per-bottle price point becomes more palatable, and we can spread the same amount of beer farther so that more people can try it. It also makes it easier to drink one now and age another for later. It's just a lot more flexible."
www.firestonebeer.com – @FirestoneWalker – facebook