Fegly's Brew Works BRETT Hop'solutely Release Details
(Allentown,PA) – We are excited to announce that Fegley's Brew Works will be releasing a reserve amount of their award-winning Hop'solutely fermented with brett, aged, and packaged in 750ml, corked and caged bottles at Fegley's Allentown and Bethlehem Brew Works. The Official release date for the bottles will be Friday, May 16th and available for purchase at the Allentown and Bethlehem Brew Works.
Hop'solutely is a premium, flagship offering from Fegley's Brew Works. This triple IPA has become a craft beer fan favorite. The addition of brettanomyces is the logical evolution of this brew. Brewmaster Beau Baden commented about Brett Hop'solutely, "We are excited to have this beer finally available after aging for nearly 4 months. This beer is fermented with 100% wild yeast (Brettanomyces). the wild yeast gives this beer a dryer flavor, light fruitiness and an effervescent finish. This beer weighs in at 11.5% ABV just like our regular version."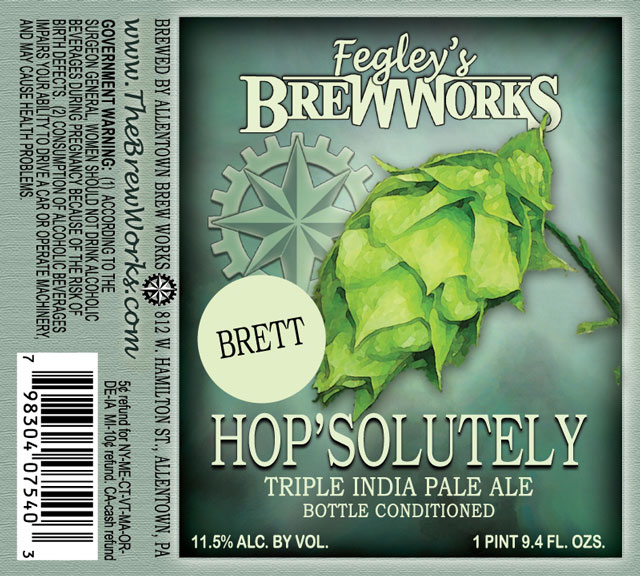 The brewery has released a limited amount of kegs to Shangy's in Emmaus and can be found on draft at area bars, pubs and restaurants where better craft beer is offered. Fegley's Brett Hop'solutely has been spotted at the Boathouse Restaurant, the Foodery, Jon's Bar & Grille, PJ's Pour House, the Pub on Passyunk East, Ron's Original Bar & Grill, Two Stone Pub, Bottle Bar East, Whole Foods (Devon), the Wooden Match and more since it's release late April.