Brewery Ommegang Announces 4th Game Of Thrones Beer – Valar Morghulis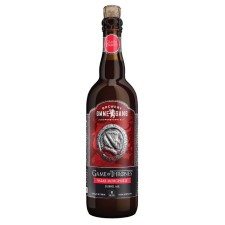 Game of Thrones® fans select fourth beer, Valar Morghulis, in bestselling Brewery Ommegang and HBO® partnership
(COOPERSTOWN, NY) In the world of Westeros, Valar Morghulis means "all men must die." Fans of the hit HBO show decided that "all men must drink" as well when they voted the foreboding phrase as the name of the newest beer in the Game of Thrones collaboration between HBO and Brewery Ommegang as part of a late December Facebook poll. The voting also determined the style of the new beer – an Abbey Dubbel – which is perfectly represented by the "two-headed" coin which will adorn the labels. Valar Morghulis will be available at retail in fall of this year.
Valar Morghulis is a central thematic element in the critically acclaimed show's fourth season, which recently debuted to record ratings. As Arya Stark continues her journey to track down what family she has left and to avenge those who have fallen, she adopts the High Valyrian phrase as a mantra against the people she wants dead. As the name for the new beer, the phrase won out during the December poll over Seven Kingdoms (Tripel), Hand of the King (Quad) and Khal (Quad). Thousands of fans cast their votes during the contest, and Valar Morghulis was the clear favorite with almost half of the votes.
"The fan response to the beers has been so incredibly positive that we thought it would be a fun reward to ask them to play an active role in selecting the fourth beer," said Bill Wetmore, Director of Marketing for Brewery Ommegang. "It's not uncommon to hear "valar brewghulis" spoken in the halls of the brewhouse, so we were secretly hoping that Valar Morghulis would be the winner. Our brewers are also excited to brew a Dubbel, a classic Belgian beer style, and have some great ideas to make this release extra special."
Valar Morghulis follows Iron Throne Blonde Ale (spring 2013), Take the Black Stout (fall 2013), and Fire and Blood Red Ale (available now) in the hugely popular partnership between HBO and Brewery Ommegang. The limited runs of Iron Throne and Take the Black sold out in a few short weeks, and Fire and Blood Red Ale is also selling out quickly, despite being brewed at nearly double the volume of the first two beers.
"The fan base for Game of Thrones keeps growing larger as each new season debuts, and the popularity of the beers is growing right along with the show," said Josh Goodstadt, Vice President of HBO Global Licensing. "For this fourth beer, we found the perfect opportunity to give those diehard fans the power to choose what beer they wanted to drink, and we can't wait to share this special brew with them this fall."
Valar Morghulis is brewed with pilsner and other specialty malts and hopped with Apollo and Hallertau Spalt Select hops. The hue is deep amber-brown with a persistent, creamy, off-white head. Aromas include caramel, toffee, ripe fruit, banana and slightly burnt sugar. The taste is well-balanced with rich malty sweetness, caramel and sugar, and just a touch of bitterness to balance. The finish is surprisingly dry and light on the tongue, belying the aroma and initial taste.
"The Dubbel is one of the most recognized beer styles in Belgium and this is a very tasty version of that style," said Mike McManus, Ommegang Innovation Manager. "Valar Morghulis is a complex beer, much like the stories surrounding the phrase."
The label art will feature the two-headed coin, given to Arya Stark by Jaqen H'ghar, one of the "Faceless Men of Braavos" – legendary assassins with the ability to change their appearance at will. Each cork will be fire-branded with "Valar Dohaeris," which is the traditional response phrase to "Valar Morghulis" meaning "all men must serve."
Valar Morghulis will be available nationally this fall (exact launch date still TBC) on draft (sixth-barrels) and in corked bottles (25.4 ounces). The recommended retail price is $8.50 per bottle.
About Brewery Ommegang
Brewery Ommegang, part of the legendary Belgian brewery Duvel Moortgat, opened in 1997 to craft-brew fine Belgian-style ales. Ommegang creates six ales year-round, as well as an extensive and imaginative range of seasonal and specialty ales. The beers have won a national following by connoisseurs of fine beer and are distributed in 43 states and internationally. Ommegang is located on a 136-acre farmstead in Cooperstown, New York, USA and offers free daily tours and inexpensive tastings as well as a 100-seat café, a well-stocked brewery store, and an annual calendar of public events. Ommegang is open every day of the year except for Christmas Eve Day, Christmas Day, Thanksgiving Day, and New Year's Day. Ommegang is a member of the Duvel family of fine beers.
www.ommegang.com – @BreweryOmmegang – Facebook – Instagram
About HBO Global Licensing
HBO Global Licensing officially licenses the HBO® brand for the development and merchandising of innovative product lines inspired by the network's award-winning programming. With products created around classic series like the The Sopranos® and Sex and the City® to current hits like True Blood® and Game of Thrones®, items include fashion apparel, jewelry, digital and CD soundtracks, games, books as well as exclusive, premium collections in partnership with upscale, designer brands. Merchandise can be purchased in retail stores nationwide, at http://store.hbo.com, and at the groundbreaking HBO retail hub, the HBO Shop®, located at 42nd and 6th Avenue in New York City. HBO Global Licensing products are also sold internationally across Europe, Asia and Australia.