Everybody's Brewing & Grains of Wrath Release Cow Punk IPA
(White Salmon, WA) — This Friday, June 15th, Everybody's Brewing and Grains of Wrath Brewing (Camas, WA) will release 22 oz bottles of their collaboration, Cow Punk IPA. This will be the summer seasonal release for Everybody's Brewing, who has a line of five rotating 22s per year, and the first time they have used a collaboration in that lineup. The formal description calls this an IPA with lots of tropical character: "With pounds of Mandarina Bavaria in the whirlpool, and dry-hopped with Citra and Simcoe, we added tangerine, orange, AND grapefruit zest for an IPA bursting with citrus aroma and flavor!" Cow Punk has an ABV of 6.5%, and 65 IBUs.
The breweries created the recipe for Cow Punk last summer, when they brewed the first fifteen-barrel batch in White Salmon, on Everybody's brewhouse. The zest used to infuse the beer comes from Columbia Gorge Organics. Sixty pounds of the fruit rind combination is added to a sixty-barrel bright tank, and the IPA is then transferred on top. Head Brewer at Everybody's, Adam McClure, said that is when it gets tricky, "A pound per barrel is a lot of zest, so once it's added, we have to monitor the beer constantly. The grapefruit is a strong flavor, and we don't want its bitterness to come through too much. It's a fine line. Luckily, the zest has almost no sugar, so re-introducing sugars isn't something we have to worry about." When the beer reaches the desired citrus flavor, they transfer it once again to another bright tank. The second transfer is to eliminate any unwanted sediment left behind by the fruit rinds. From there, it is packaged into bottles or kegs.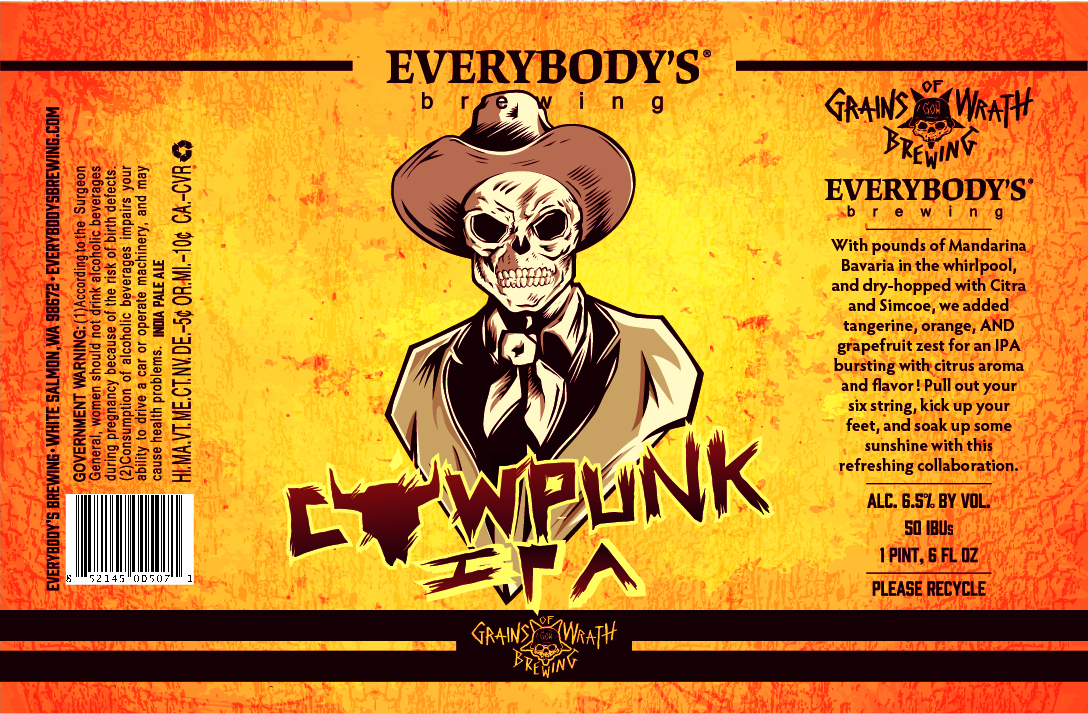 The beer got excellent online reviews last year, and both parties were pleased with how well the citrus notes shined through. "The combo of citrus flavors really makes it pop." said owner/brewmaster at Everybody's, Doug Ellenberger. "After the reception it got last summer, it was an easy choice to make it this year's summer 22-ounce bottle. Locals out here have been begging us to bring it back, and we are excited to oblige."
Grains of Wrath Brewmaster and co-founder, Mike Hunsaker, echoed the sentiments, "The goal was to make a beer that tasted like summer. The hops we chose, and the citrus fruit are meant to compliment and balance each other. The citrus notes in the final product are beautiful."
The name Cow Punk refers to the musical genre by the same name, commonly described as "punk rock meets country", (think Social Distortion covering Johnny Cash's "Ring of Fire"). The same description can be made between the branding of the two breweries. Grains of Wrath has a loud, in your face, heavy metal theme, while Everybody's calls the slow-paced Columbia Gorge hamlet of White Salmon home and is best known for an IPA called Country Boy.
Bottles will be available throughout OR, WA, and Northern ID after June 15th. A kick-off party and the first chance to try this beer on draft will be at Final Draft Tap House in Vancouver, WA on June 21st. Brewers from both Everybody's and Grains of Wrath will be on hand to celebrate the occasion.