Epic Brewing Accidentally Makes Wild Brainless on Peaches
(Salt Lake City, UT) – A disaster struck late last year at Epic Brewing Company. A batch of one of our prized beers, Brainless on Peaches, went south on us during barrel aging. In April we pulled down several barrels that had been put up in December 2013 and the tasting panel came back with these nightmarish notes prohibiting the beer from blending. Part of their notes read, "…upon being tasted, all were found to have some off flavor. The off flavors include some or all of the following; tartness from mild lactic to strong puckering acetic, uncharacteristic [lack of any] sweetness, and horsey funk." We obviously could not sell this as Brainless on Peaches, a GABF Silver Medal winning fruit beer, since the beer is meant to be clean with only a faint hint of tartness from the skin of the peaches, not sour and funky.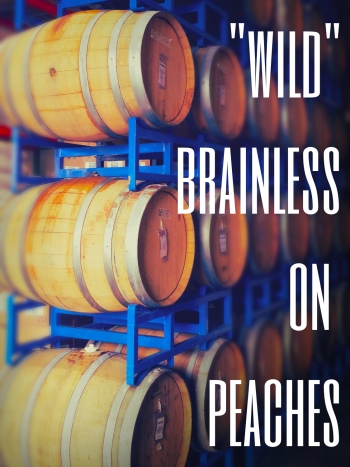 Immediately we re-evaluated all of the process and handling procedures for making Brainless on Peaches and bunged up the "off flavor" barrels for future disposal or some yet to be determined fate. We invested in some additional equipment and tightened up process in many regards to assure we could continue to produce our popular Belgian Style Peach beer. In the end this event made us better brewers.
With the fire at hand under control we turned back to the "off flavor" barrels in early June. They had developed a little more, maybe even a lot more and without the panic of not being able to make enough Brainless on Peaches to meet demand, we started to see this "strong puckering acetic…and horsey funk" beer in a different light. The variability in flavor from each barrel ran from offensive to beautiful, puckering to just a hint of tartness, as well as funk, peaches, wine, and just a hint of Brettanomyces character. We selected and blended the barrels together and it developed in to a magically sour, once in a lifetime, likely never to be reproduced beer.
During our research, the lab results indicated aggressive wild yeast and maybe some other acid producing bacteria were to thank for this spectacular beer. What was even more surprising was that they all tolerating alcohol levels in excess of 11% and low pH levels. Today, we are actively working on isolating the yeast, etc., to see what more can be done with it, if anything. What is interesting to us is that this yeast and its other wild "pals" were able to produce the characteristics we are looking for in our Denver sour beer program and it occurred much faster than our controlled inoculations of commercially available Brettanomyces, Lactobacillus and Pediococcus. The beers from the Denver program are still not ready after several months of aging and we are not adventurous enough to go "totally-unknown wild" in the three wonderful wood Foeders we purchased from New Belgium Brewing.
But this beautiful, one off, disaster we call "Wild" Brainless on Peaches is ready to drink now! To get this live sour beer out to market quickly, for our followers to enjoy, we are releasing approximately 60, ¼ barrel kegs of beer to the market and it will soon be poured in our Denver taproom. Look for it where your find Epic on draft regularly.
P.S. Due to Utah's laws and regulations protecting its good citizens from our wild, sour, strong beer, by making it way too difficult to actually get a beer into the market in a reasonable time span, this beer will not be offered in Utah.