Empyrean Brewing Co. Expands Distribution in North Dakota & Western Minnesota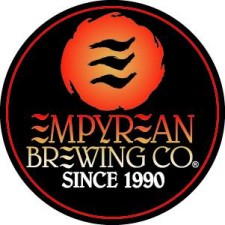 Lincoln, NE – Beer from Nebraska's oldest and largest craft brewery is now available in North Dakota and western Minnesota. Empyrean Brewing Company of Lincoln has partnered with beer distributor Bergseth Bros. starting this week.
In its 25th year of operation, Empyrean beers have already been available in certain areas of North Dakota and Minnesota through other distributors. Says Empyrean Production Manager Jim Engelbart, "We're very pleased to finally be reaching more of these two states, especially Fargo and Jamestown where people are familiar with Empyrean due to their ties to Nebraska sports and businesses. Plus, we know the residents of these communities are thirsty for well-made craft beers."
Sales representative Ben Matya says Empyrean has a great partner in Bergseth Bros. "In talking to different retailers in North Dakota and Minnesota, we've heard glowing reports regarding their excellent service and support. Like Bergseth, Empyrean is a family owned company which means we take extra pride in our craft."
Started by two Lincoln brothers and their best friend, Empyrean Brewing Co. was originally founded as Lazlo's Brewery and Grill in 1990 as Nebraska's first brew-pub. As demand for its beer grew, the brewery earned its own identity as Empyrean Brewing Co. Head brewer Rich Chapin, who has been with the company since its inception, continues to brew up a celestial mix of full-flavored ales designed to complement Midwestern tastes in beer and food.
Bergseth Bros. Co., Inc. is a family owned business, founded in 1946 by brothers Milton and Arno Bergseth. Originally a fish wholesaler with a single beer brand, the company shifted focus completely to beer distribution in 1961. Today, Bergseth Bros. has, a beer portfolio of over 100 brands, and distributes product to 650 North Dakota and Minnesota restaurants, retailers, and bars. More information is available at www.bergsethbeer.com
About Empyrean Brewing Co.
According to folklore, since the dawn of time all people marveled at the mysteries of the universe, and brewed beer. These ancients sipped on their hand-crafted brews and dreamed of a paradise existing at the highest point in the universe; inside a fiery sphere they called Empyrean.
Packaging more than 6,500 barrels of beer each year, Empyrean Brewing Co. offers eight to ten varieties at any one time. Six of these are bottled on site and distributed year round, while seasonal and limited release selections are available on draught and in bottles.
www.empyreanbrewingco.com – @EmpyreanBrewing – facebook