Elysian Brewing Introduces Oddland Series, First Beer Spiced Pear Ale
When the brewers at Elysian provided Seattle artist Jim Woodring with the grist of their idea for the second beer in the collaborative Oddland series, it was really pretty simple:  pear and cardamom.  Straightforward, right?  Well, maybe, if you're casting a glance at the dessert menu of an Asian fusion restaurant.  With a multiply peppercorned saison as their first trick, Elysian's brewers were clearly taking a bit of a turn.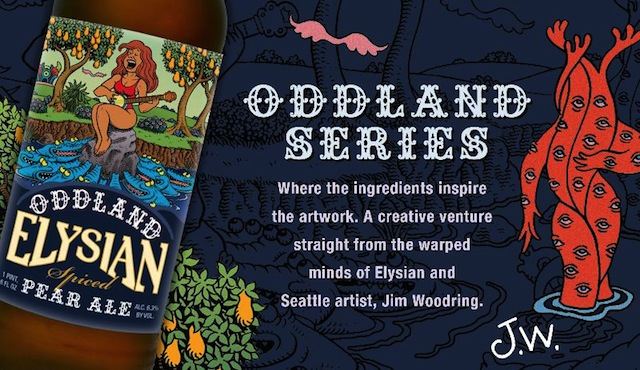 And Woodring didn't skip a beat.  As if in response to a challenge he fired back a sketch of a buxom songstress sitting on a rock, accompanying herself on a banjo.  Obvious, ne c'est pas?  Perhaps, if you've got a feel for the Woodring oeuvre, all menacing frogs and trumpet-billed duck-things and other, more unsettling creaturely images.  She even seemed to have a name–maybe this was the oft-referenced Tara Incognita, fitting for a series of beers called Oddland…
Then things really started flying, and when the dust all settled, the beer was to have cumin as well, and the chick on the rock was surrounded by blue alligators, shaded by pear trees bowed with ripe opulence, and sung along with by strange little sentient-seeming water plants.  Oh, and there's a weird, wading creature with lots of eyes, presumably lip-reading.
Oddland Spiced Pear Ale is brewed with pears, Northwest premium 2-row and German Cara-hell malts, bittered with German Northern Brewer and finished with Yakima Cascade and Czech Saaz hops.  Cumin and cardamom give it a heady and exotic touch, offsetting a drinkable and refreshing beer of 6.25% alcohol by volume.  Jim Woodring's label art tells the story, and then some, transporting those paying attention once more to Oddland.
Available in stores and on draft beginning July 15th, and at the Oregon Brewers Festival July 24-28 on the Willamette waterfront in Portland.
-Dick Cantwell
Head Brewer and Founder, Elysian Brewing
AVAILABLE :: JULY 15
Draft and 22oz Bottles
ABOUT ELYSIAN
Elysian Brewing Company operates three neighborhood brewpubs and a production brewery in Seattle, WA.  Known for variety, Elysian has brewed more than 200 different beers since opening its doors in 1996.
ABOUT JIM WOODRING
Jim Woodring was born in the foothills of the San Gabriel Mountains in Southern California and enjoyed an exciting childhood full of poetry and paroniria among the snakes, rats and tarantulas of that enchanted realm. He eventually grew into an inquisitive bearlike man who has had three exciting careers; garbage collector, merry-go-round-operator and cartoonist. His work has been collected in several books from Fantagraphics and in various toys, fabrics, prints and urban legends.
WWW.FANTAGRAPHICS.COM/JIMWOODRING
ABOUT FANTAGRAPHICS
Located in Georgetown, Seattle, WA Fantagraphics Books has been a leading proponent of comics as a legitimate form of art and literature since it began publishing the critical trade magazine The Comics Journal in 1976.