Drake's Jolly Rodger 2011 Will Be An Imperial Black IPA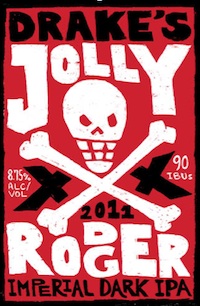 Drake's Brewery has just announced what this years Jolly Rodger Ale will be. Last year it was an Imperial Red Ale. This year, they are going for  a high IBU Black IPA, or as they are putting it, an Imperial Dark IPA.  
Our holiday creation the Jolly Rodger is back for another round, and this year's Jolly is bolder and blacker than ever as an Imperial Dark IPA.  A blend of American 2-row barley, dark roasted barley and rye make this beer intensely smooth and black, while a heavy dose of Chinook, Citra and CTZ hops give it a crisp, West Coast-style hoppy edge. Smooth and hop-forward, but with a heart of darkness, this year's Jolly is bolder than ever before.  Come be the first to get a taste at the Jolly Rodger 2011 release at 6pm on November 9 near 8th and Broadway in Oakland.  You may just get "trapped" inside this local craft beer bar by your need for more 2011 Jolly Rodger.