Dogfish Head + Woolrich Collab Debuting This Weekend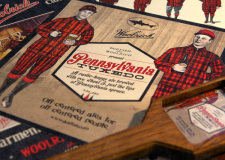 This weekend is Analog-A-Go-Go, Dogfish Head Brewing's annual cask-beer fest and vinyl swap here in coastal Delaware. This year's Analog is especially special 'cuz we'll be debuting two new collaborations:
Pennsylvania Tuxedo
Our just-announced liquid and solid partnership with the iconic American clothing maker Woolrich. The Woolrich + Dogfish Head beer, dubbed Pennsylvania Tuxedo, was brewed with spruce tips from Woolrich, Pa. Named after the head-to-toe red and black wool outfits that woodsmen wear in Pennsylvania, New England and beyond, the 4.5% ABV rye pale ale will debut on cask at Analog. After that, it'll be available for a limited time at our Rehoboth Beach brewpub.
We'll also be debuting the solid side of our Woolrich partnership. We've created a Made-in-the-USA, nautical-inspired capsule clothing collection that includes:
a classic chambray men's button-down
a long women's beach coverup/dress
a 100 percent soft wool throw blanket
a beach hat
a wool koozie, perfect for the city or the sand
The capsule collection will be available at Analog and – starting June 16 – in the shop at our Milton, Del., brewery and on our website.
More info on the Woolrich collaboration, including photos and a short film, are available here.
Desert Sage Bravo
With the wilderness fragrance distillery Juniper Ridge, we've brewed Desert Sage Bravo. This 5% ABV American wheat beer is brewed with all bravo hops and white sage and wild mint tea from Juniper Ridge.
Juniper Ridge is a company focused on all-natural, sustainably harvested and foraged ingredients to make beautiful natural fragrances and flavors representative of the Pacific Northwest. Bravo is a newer Pacific Northwest hop variety characterized by its strong herbal minty notes, perfectly complementing the "rich, earthy, minty" flavors of the tea.
"At Dogfish Head, we love roaming throughout Mother Nature to find inspiring ingredients for our beers," says Dogfish Head founder and president Sam Calagione. "We believe there's a great overlap between our approach and Juniper Ridge's. Their products inspire us, and we're excited to combine forces on this beer."
Desert Sage Bravo has big notes of sage brush, dried juniper and wild mint in the nose, which give way to a clean wheat malt middle in the flavor with a long woody and minty finish that lingers on the tongue. It's a perfect refresher for the long, hot Sussex County summer days.
More Analog details and tickets available here!
www.dogfish.com – @dogfishbeer – facebook