Dogfish Head Wins Medal for Rum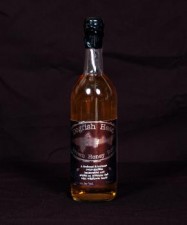 Dogfish Head's Alison Schrader might be an accidental distiller, but she's a talented one.
In the American Distilling Institute's sixth annual artisan spirits competition, Dogfish's Brown Honey Rum was pegged with a silver medal in the Flavored Rum category.
"This competition is the best of the best for craft distilleries," Alison says. "I'm very excited."
Alison, a former art curator and motel manager, joined the Dogfish team 10 years ago, running food and waiting tables at Dogfish's Rehoboth brewpub. When the distiller needed an assistant, Alison jumped in.
"I was pretty much the only one who came in religiously day after day," she says. "I was doing mainly packaging and bottling. And that's how it all began."
In 2006, the distiller left, too, and it was up to Alison to keep the still boiling. She embraced the opportunity, and as the world of craft distilling has grown, she's grown right alongside it.
"With beer, the craft movement is starting to push the bigger boys out, which I think is really cool," she says. "I want to see that in the distilling world, as well."
Dogfish began distilling in 2002 and has kept things pretty small. Alison and a handful of helpers produced 500 cases of rum, vodka and gin last year that sold mostly within Delaware. The biggest sellers are Brown Honey Rum, a double-distilled amber rum now made using Delaware wildflower honey, and Peanut Butter Vodka.
The goal for 2012 is 1,200 cases, which is closing in on capacity, but legislation moving through Delaware's General Assembly would allow for a bigger distillery beyond the brewpub's walls.
What's Alison's dream for that extra space?
"Whiskey," she says without hesitation. "Fun whiskeys. It doesn't always have to be straight corn, it doesn't have to be straight rye. It can be really fun and unique, because that's Dogfish."