Craft Beer News Roundup: Eagle Rock, Lagunitas, Sebago and Goose Island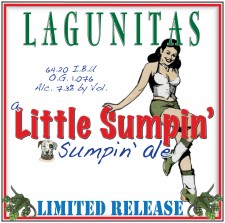 We are bringing you the roundup of craft beer news. In this edition, please enjoy news items on Eagle Rock Brewery, Lagunitas Brewing, Sebago Brewing as well as Goose Island. Cheers!
Eagle Rock Brewery – In exciting progress type news, Eagle Rock Brewery's new bottling system is building momentum. They just released Populist IPA last week, which is hitting shelves where finer beer is sold in SoCal, we've been told next in line is Soldarity and Manifesto, so keep your eyes peeled for that.
Lagunitas – To update you on the ongoing saga of Lagunitas' lauter tun, they finally got their replacement. Does this mean Brown Shugga this year? Anyway, here are the pictures from their blog. http://lagunitas.com/gallery/2012/04/06/installing-the-new-lauter-tun/
Seabago – We have instituted a pilot brewing system at the brewery to test new beers. Some of our favorite beers that are brewed on the pilot system will eventually be released as Single Batch Series beers!
Tonight (Wednesday, April 11th) we are holding Pilot Night: Lager Edition at our Portland brewpub. The following beers will be available that have been brewed on the pilot system over the last few months.
Hella Yella Summa Lager (4.3% ABV) – Light and very hoppy summer lager; spicy, crisp and refreshing.
Parts Unknown Black Lager (5.4% ABV) – Black and lean, earthy and toasty with a slightly roasted finish.
Unkel Dunkel (5.1% ABV) – Malty and rich yet drinkable. Toasty and toffee-y with subtle spice.
The Catch III California Common (5.2% ABV) – Dominated by Cascade hops, bright & citrusy, golden orange in color. A well balanced sessionable pale brew.
 Goose Island – Goose Island has released a video on their latest Fulton and Wood Series beer, En Passant. This is a brewery only release, and on tap. Of note, we can expect a new beer from this series bi-monthly. Watch the video by following this link. http://youtu.be/bnmAP5cI58w