Dogfish Head Releases IPAs for the Holidays Variety Pack
(Milton, DE) – Arriving just in time to make your holidays merry and bright, Dogfish Head Craft Brewery has released a hoptastic collection of its off-centered ales in one special box, the IPAs for the Holidays variety 12-pack. Featuring an assortment of India Pale Ale goodness, IPAs for the Holidays includes the return of a fan-favorite, continually hopped IPA, a beautifully balanced Imperial Pale Ale, a dry-hopped, dark malted ale and an exclusive beer-wine hybrid that's a blend of 60 Minute IPA and Syrah. While diverse in bitterness and body, the IPAs for the Holidays 12-pack unifies with vibrant aromas and intense hop flavors that emphasize Dogfish Head's commitment to continual hopping innovation, creativity and experimentation in brewing, along with dedication to always using fresh culinary ingredients in their beers.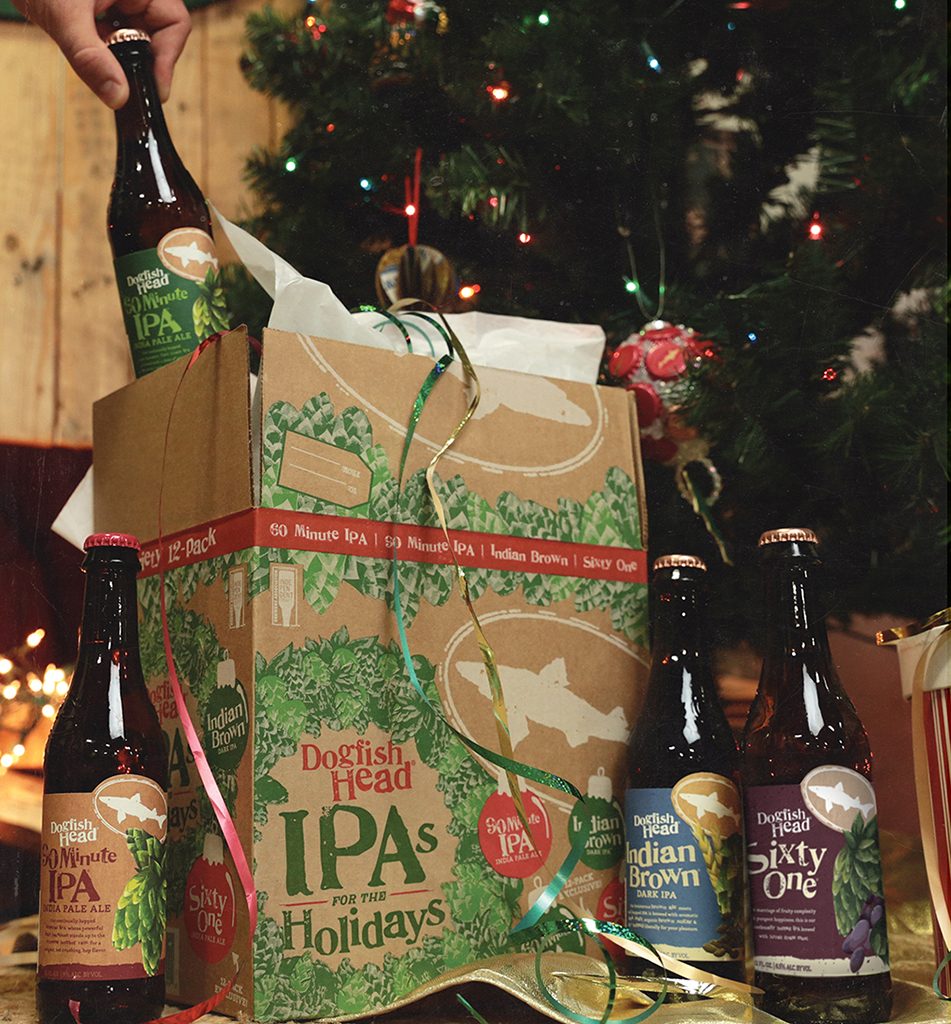 The IPAs for the Holidays 12pk contains 4 varieties of IPAs including:
Sixty One – 12-pack EXCLUSIVE!

A marriage of two Dogfish Head innovations: beer-wine hybrids and continually hopped IPAs. Dogfish took its best-selling 60 Minute and added Syrah grape must to create an IPA with equal parts fruity complexity and pungent hoppiness.

60 Minute IPA

A continually hopped super-fantastic East Coast IPA brewed with a slew of great Northwest hops for a powerful, but balanced, citrusy hop character.

90 Minute IPA

A continually hopped Imperial IPA whose powerful malt backbone stands up to the extreme hopping rate for a pungent, not crushing flavor.

Indian Brown Dark IPA

A boisterous brown ale meets well-hopped IPA is brewed with aromatic dark malt, organic brown sugar and dry-hopped liberally for your holiday-drinking pleasure.
"Our journey with IPAs and continual hopping began twenty-two years ago at our brewpub in Rehoboth, where we angled a vibrating football game over a 5-barrel kettle with a bucket of pelletized hops hanging over it," says Sam Calagione, founder and CEO of Dogfish Head Craft Brewery. "This super unique method allowed us to control the rate of hops entering the boil – with one hop dose each minute – paving the way for classic Dogfish beers like 60 Minute and 90 Minute IPA and opening the door for more adventurous IPA hybrid creations like Sixty One. IPAs for the Holidays is our gift to indie craft beer friends that rally behind pushing the boundaries of traditional brewing and enjoy drinking delicious, inventive IPAs – cheers!" To find and enjoy IPAs for the Holidays and other off-centered Dogfish Head brews in your area, visit www.dogfish.com/brewery/fishfinder.